Flying Doctors Brace for Virus in Australia's Remotest Corners
(Bloomberg) -- Australia's Royal Flying Doctor Service faces a formidable task even in the best of times, traveling 27 million kilometers a year to provide care in the nation's remotest corners. The coronavirus is making the job even tougher.
The iconic service is bracing for outbreaks in communities that can take days to reach by road, and is boosting its front-line team of pilots and medics in preparation.
"We've had to bring on additional staff anticipating a surge in demand, and had to take additional steps to ensure that we are not a vector of infection," said Frank Quinlan, the service's federation executive director.
That's meant cleaning aircraft for three hours at a time to minimize the risk of spreading the virus to isolated communities, where Aboriginal Australians are considered among the most vulnerable due to underlying health conditions. The service, which typically ferries more than 100 patients a day by air from remote communities to hospitals, has so far handled emergency transportation for more than 260 patients with suspected or confirmed Covid-19 cases.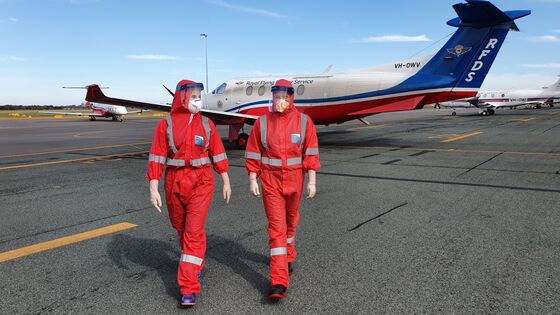 While social distancing restrictions have seen the rate of new infections in Australia flatten, Quinlan's teams are preparing for a potential additional workload for months to come. "We have a readiness and a capability to respond quickly to any outbreaks of the disease that may yet occur in rural and remote communities as the life of the virus plays itself out," he said.
Read more: Australia Can Expect Further Outbreaks After Lockdown Ends
Dating back to 1928 when it had a single leased aircraft, the flying doctors cover about 7.9 million square kilometers -- a region about four times the size of Alaska. The service's 77 aircraft typically operate with a single pilot and a flight nurse, though there is often a doctor on board and roomier jets can accommodate larger medical teams. They're fitted with ventilators, monitors and resuscitation equipment more commonly seen in a hospital emergency room.
"We basically serve as an intensive care unit in the sky," said Damien Whitham, a Perth-based deputy head of flying operations in Western Australia. "Our team members are required to carry out things that would normally be done in an ICU, in a confined environment, under duress and under conditions that are outside of how people would normally work."
To contend with virus risks, crews are wearing additional protective equipment. "It gets very hot wearing overalls, a face mask and two sets of gloves," according to Joe Saad, a commercial pilot who has temporarily returned to the service to assist. "Once we've done a Covid-19 transfer, we decontaminate our boots by stepping into a bucket of water and bleach."
With staff costs and other overheads rising, the service has been given additional government funding and relies on donations from companies such as BHP Group, Rio Tinto Group and Chevron Corp. Australia's richest person Gina Rinehart this month pledged a further A$6 million as the charity has rushed to build extra capacity.
A key challenge in coming months will be to ensure such funding doesn't dry up, said Quinlan.