Job Growth in Florida May Help Republicans Keep the Senate
(Bloomberg) -- Following his surprise win almost eight years ago, Florida Governor Rick Scott relentlessly pushed the "Let's Get to Work" slogan that got him elected. One weekday a month, corresponding with the release of the state's employment report, the new Republican leader of the nation's third most-populous state started with a morning speech at a growing business and crisscrossed the peninsula to visit two or three more by day's end.
The effort has bolstered Scott's bid to unseat Democratic senator Bill Nelson, political strategists say. A Scott victory in Florida on Nov. 6 could solidify the Republicans' 51-to-49 seat majority in Congress' upper chamber. An average of polls published by RealClearPolitics shows the Scott-Nelson race is a tie, while the Cook Political Report calls it a "toss-up."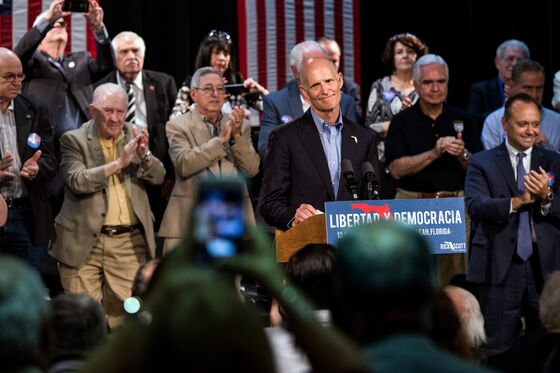 In interviews with a couple dozen residents of Central Florida, a crucial swing district, a few like Winter Park banker Thomas Yochum give Scott credit for boosting the economy and steering the state through several hurricanes.
"I didn't care for him when he started, but I can't argue with the performance," Yochum said.
If a strong economy is giving Scott a boost in Florida, its effect is muted in other tossup Senate races. Americans for Prosperity, the political action committee backed by the right-leaning Koch brothers, has taken out ads hammering Missouri Senator Claire McCaskill and Indiana Senator Joe Donnelly for opposing last year's tax overhaul. So far, the ads haven't hurt the two Democrats.
Meanwhile, Republican Senator Dean Heller of Nevada has run ads calling Nevada's growth the "best in the nation" and attacking his Democratic opponent, Jacky Rosen, for wanting higher taxes that would "cripple our economy." While Heller is up slightly in polls, his economic message hasn't resonated with voters, said Jon Ralston, a political analyst and editor of The Nevada Independent. If anything, he said, voters are giving that state's Republican governor, Brian Sandoval, credit for Nevada's economic turnaround.
In Florida, Scott came into office in January 2011 with the same rock-the-boat message President Donald Trump would later employ, but with a more low-key style and tamer tweets. Like Trump, he was wealthy -- spending more than $70 million of his own money in his initial gubernatorial race -- and no one expected him to beat Florida's establishment Republican candidate, the state's attorney general.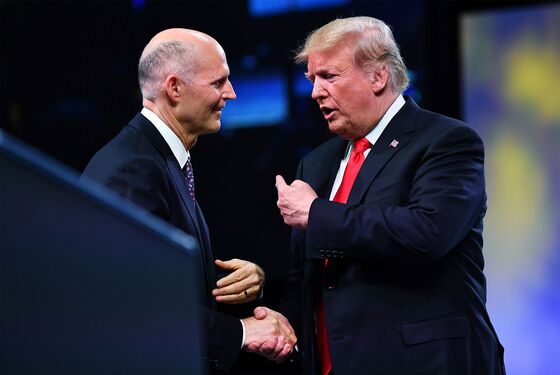 Also like Trump, chaos dogged his first year in office. Much of his inexperienced political staff turned over, he angered many with his decisions to slash the state's education budget by $1.3 billion and to kill a high-speed train project, and he had a poisonous relationship with the press. Scott's staff initially tried to hide him from the media because of his "robotic" speaking style, said Darrick McGhee, Scott's legislative affairs director in 2013 and 2014.
"The team's mindset was, 'It's us against the world,' so their initial actions and policies reflected that," said McGhee, who grades Scott's economic efforts an 'A.'
Over the years, though, some of his hard-right positions moderated. He wound up boosting the state's education budget and he took some actions that angered conservatives, including raising the minimum age to buy a gun to 21 from 18 in the wake of the mass shooting at a high school in Parkland, Fl., last year.
What defines Scott more than anything, though, is his focus on jobs -- and today it underpins his candidacy for the Senate.
In 2010, as an unknown transplant to wealthy Naples in southwest Florida, Scott's campaign team crafted a plan to create 700,000 jobs over seven years through seven steps. For years after, newspapers fact-checked the promise and suggested Scott was far behind his timetable. Later, as the economy crawled to life and it looked like Florida might actually reach the 700,000 jobs, skeptical news stories suggested he needed to create 700,000 jobs above whatever the economy would've created anyway.
Today, federal jobs data show Florida added just shy of 1.5 million jobs in the seven years between when he took office and December 2017. In April, Politifact Florida, a fact-checking unit of the Poynter Institute for Media Studies, rated Scott's pledge a "promise kept."
Others, though, say any effect he's had on the economy are overshadowed by his controversial past in healthcare and recent media reports that he's profited financially from his office. Before he entered politics, Scott's hospital company, Columbia/HCA, paid $1.7 billion in fines related to overbilling Medicare and Medicaid. Recent press accounts said that, while he transferred some of his wealth into a blind trust to reduce the appearance of conflicts, he still had visibility into its holdings. A campaign spokesman told The New York Times that Scott has had no communication with the trust's manager. Scott's worth at least $254 million, according to federal disclosures.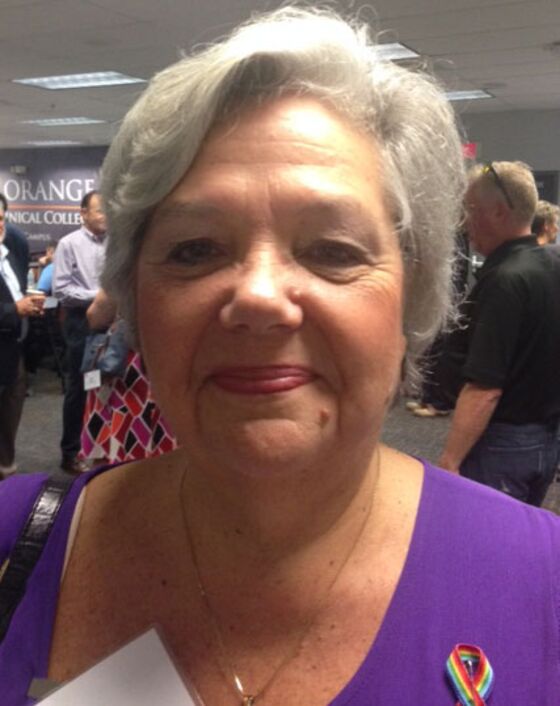 "I think his business dealings show he skirts the rules," said Cheryl Belfay, 63, who owns a promotional products company in Orlando. As for his stewardship of the economy, Belfay said, "At least he didn't mess up what already was here."
Dick Batchelor, a former Democratic state legislator, had a stronger critique of Scott's jobs record, faulting the governor for taking a recruiting trip to the Pennsylvania headquarters of convenience store chain Wawa Inc. "He always cuts the ribbon on a Wawa."
Nelson, too, has taken jabs at Scott's jobs claims, citing United Way numbers from 2015 showing that 44 percent of Florida households were either below the poverty line or at least unable to afford basic needs such as housing, food, child care and health care. Sixty-seven percent of jobs in Florida paid less than $20 an hour, the report said, while three-quarters of those paid less than $15.
In an email, Scott campaign spokesman Chris Hartline said Florida's average private sector wage is up by 18 percent since Scott took office, while companies expanding under Scott's watch have included Lockheed Martin Corp., which announced plans for 500 jobs in Orlando, and Wyndham Destinations Inc., which put its U.S. headquarters and 200 jobs there.
"While I don't think the economy will decide the race, I do think the job he's done gives him a chance," said Steve Schale, a Democratic strategist in Florida who directed President Barack Obama's campaign in Florida in 2008. "Scott in some ways can say, 'Washington's not working, but look what I did here in Florida."
A spokesman for Nelson's campaign didn't respond to a request for a comment.
Meanwhile, of the two dozen young professionals interviewed in Orlando, about half said they weren't familiar enough with the records of either Scott or Nelson to voice an opinion.