Texas Deaths Rise, Florida Cases Skew Older Ahead of Test Surge
The federal government is ramping up coronavirus testing in Louisiana, Texas and Florida, three states seeing a surge in Covid-19 infections, as health officials attempt to get a firm grasp on how the fast-moving pandemic is evolving.
Eight temporary testing sites will each perform as many as 5,000 free tests a day, the U.S. Department of Health and Human Services said. Four sites opened Tuesday in Baton Rouge, Louisiana, while one in Edinburg, Texas, and three in Jacksonville, Florida, will open Wednesday. The sites will remain open for up to 12 days.
Increased testing could help health experts get a clearer picture of how the coronavirus is moving through the population, as officials weigh how far to go in reopening the economy -- or in rolling back steps already taken to revive business.
There were signs Tuesday that recent trends toward fewer deaths and a greater share of new cases among younger people -- developments that have comforted some governors, businesses and investors -- could soon shift. In Florida, the median age of infections rose to 40, the highest since the state began tracking it in June. And in Texas, a record 60 deaths were reported.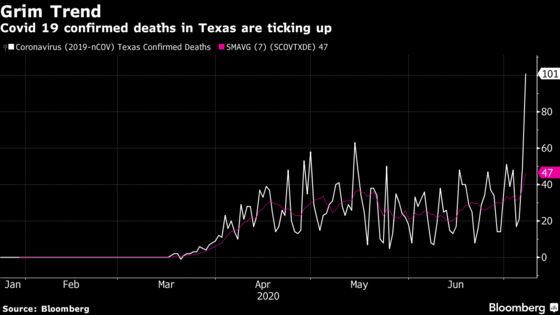 At the same time, infections keep climbing. New cases topped 10,000 in Texas for the first time, reaching 210,585, while in Florida, cases jumped 3.6% to 213,794. The U.S. total is approaching 3 million.
An increase in deaths will inevitably follow an increase in cases, but it will take several weeks to a month, according to Paula Cannon, a professor of molecular microbiology and immunology at the Keck School of Medicine at the University of Southern California.
"We are in the calm before the storm," Cannon said. "Deaths follow cases with a delay of two to four weeks. The fact that the rate is going down is not a cause for celebration when the absolute number of cases is growing exponentially. The absolute number of fatalities will be increasing, so it's hard to celebrate."
The surge testing sites should help beef up screening in areas where infections have been soaring. Increased testing is seen as crucial to containing viral outbreaks; having a clearer picture of who is infected and where they live can help contain a pathogen's transmission.
"Standing up surge testing sites is one of many tools we are utilizing now to assist local leadership to reduce community spread," Brett Giroir, the HHS assistant secretary, said in a statement. He initially announced the plan to establish surge testing sites July 1 in a call with reporters.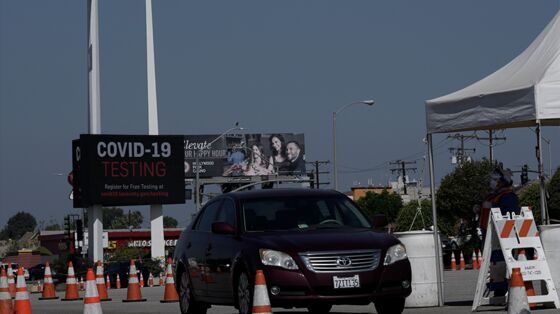 In the early months of the pandemic, the U.S. suffered from a dearth of diagnostic testing. Since then, screening has become more readily accessible. The federal government for the first time eclipsed its goal of performing around 12.9 million Covid-19 tests in June, Giroir said Tuesday.
However, results are still taking a long time to come back. Quest Diagnostics, one of the biggest commercial labs in the U.S., said this week that it expects its average turnaround time for most Covid-19 tests to be four to six days, up from three to five, due to increased demand.
Such lags could slow down efforts to understand the scope and severity of the pandemic's current wave. In recent weeks, the age of newly infected people has skewed younger than in the spring. That has led to speculation that many of those now testing positive will have relatively mild bouts of Covid-19, leading to lower rates of hospitalization and death.
However, daily death tolls in Arizona, Florida and Texas have been trending upward, though they fluctuate day by day.
The picture is likely to become clearer in coming weeks. The number of cases often picks up after a holiday weekend, when people travel to see family and friends who aren't part of their normal routines, said Richard Oberhelman, associate dean for global health at Tulane University School of Public Health and Tropical Medicine.
"My guess is that we will see increases in the numbers in the next couple of weeks, following the surge in the number of cases, especially after the Fourth of July weekend," he said. And even if a high percentage of the recently infected are young and previously healthy, they still have opportunities to pass the virus to more-vulnerable groups.
"They will at some point go see grandma and grandpa," Oberhelman said.
Even in hard-hit states, deaths haven't been climbing at the same rate as confirmed cases, said Christopher Murray, director of the University of Washington's Institute for Health Metrics and Evaluation. In new projections released Tuesday, Murray said the institute expects some 78,000 more deaths nationwide through November, for a total of 208,255.
If 95% of people wear masks, that number could be significantly reduced, to 162,807 deaths, Murray said. If mandates ease, the toll could be higher.
Rising case counts have prompted some states to pause efforts to restart their economies. Others have restricted travel from hot spots. Governor Andrew Cuomo on Tuesday added Delaware, Kansas and Oklahoma to a list of 16 states whose residents must self-quarantine for 14 days if they travel to New York. New Jersey and Connecticut have adopted the same restrictions.
"New Yorkers did the impossible -- we went from the worst infection rate in the United States to one of the best -- and the last thing we need is to see another spike of Covid-19," Cuomo said in a press release.
The wave of infections has also complicated the process of reopening schools. Although President Donald Trump is pushing for districts to reopen this fall, educators can't easily predict the state of the pandemic in their communities when the school year begins.
"The reality is that they have to map out several scenarios for the fall with the real possibility that they don't know what the scenario will be on the first day of school," said Betheny Gross, associate director of the Center on Reinventing Public Education at the University of Washington at Bothell, which has been tracking districts' responses to the coronavirus shutdown.
In some states, however, officials are pressing on. The commissioner of Florida's education department on Monday ordered schools in the state to be open at least five days a week for all students, starting in August.