Hurricane Threat Rises Over East Coast as Florence Looms
(Bloomberg) -- Tropical Storm Florence is casting a hurricane-sized shadow across the U.S. East Coast, where it could strike late next week.
The chances of Florence of hitting the U.S. have been increasing as the storm drifts west across the central Atlantic Ocean. Florence was about 835 miles (1,344 kilometers) southeast of Bermuda, with tropical-storm strength winds of 65 miles per hour, at 11 a.m. New York time, the National Hurricane Center said. It could become a Category 4 hurricane with winds of 145 mph by Wednesday.
"Interests along the U.S. East Coast, particularly from north Florida through North Carolina, should closely monitor the progress of Florence," the hurricane center. People should have a personal hurricane plan.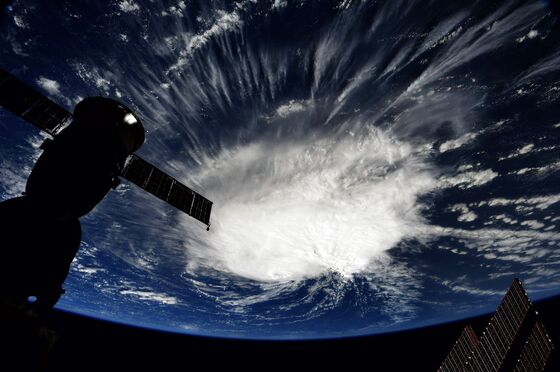 "We are in a serious situation, we have major hurricane potentially making landfall on the East Coast next week," Jeff Masters, co-founder of Weather Underground in Ann Arbor, Michigan, said by telephone. "I would say it has about a 70 percent chance to hit the U.S. East Coast and a 30 percent chance it recurves."
Hurricane track and intensity forecasts often have wide margins of error beyond five days. The earliest Florence may approach the U.S. coastline would be Sept. 13-14, but meteorologists are warning everyone from Florida to Massachusetts to pay close attention.
"People don't need to go out and start boarding up windows and stocking up on supplies just yet," said Mike Doll, a meteorologist at AccuWeather Inc. in State College, Pennsylvania. "By the time we get to Thursday, the expectation is it will be off the southeast coast of the U.S."
More than 3.9 million homes that would cost more than a $1 trillion to rebuild are at risk from hurricanes on the U.S. Atlantic coast from Maine to Florida, according to CoreLogic, a property analytics firm in Irvine, California.
The East Coast's fate from the current storm will be decided by a weather pattern called the Bermuda High. A semi-permanent feature in the Atlantic, the high rotates in a clockwise manner and will steer Florence through the ocean. Or to think of it another way, imagine the hands of a clock sweeping past six and heading toward nine.
"Florence is tracing out a clockwise path around the high," Masters said. "When it reaches the edge of the high, it will start to turn north."
If the high's edge is offshore then Florence could miss the East Coast entirely. But if it's overland or close to the seaboard, then the storm will strike land, he said. The forecast picture will become clearer through the weekend.
"By the time we get to early Monday we're going to have a better idea of what portions of the East Coast will be directly impacted," Doll said.
Eight storms have emerged across the Atlantic so far this year, and tropical depression nine -- currently well over 1,000 miles east of the Caribbean -- might become a named storm later Saturday.
Meanwhile, in the Pacific, Hurricane Olivia, forecast to weaken to a tropical storm, may hit Hawaii as soon as Tuesday. Further to the west, Typhoon Mangkhut will sweep past the U.S. territory of Guam Monday and Tuesday.