Florence to Park Above Carolina Coastline Dumping Rain for Days
(Bloomberg) -- Hurricane Florence is set to park itself off the coast of the Carolinas, delivering a rainy punch and threatening a huge swath of the coastline before making landfall.
The Category 3 storm is forecast to deliver as much as 30 inches (76 centimeters) of rain and has the potential to trigger catastrophic flooding, according to the National Hurricane Center. It's also expected to drive a 13-foot storm surge to resort towns that have been largely evacuated.
"My message is clear: disaster is at the doorstep," North Carolina Governor Roy Cooper said Wednesday. Because the storm is expected shift to the south, more of the region will be exposed to the brunt of its force.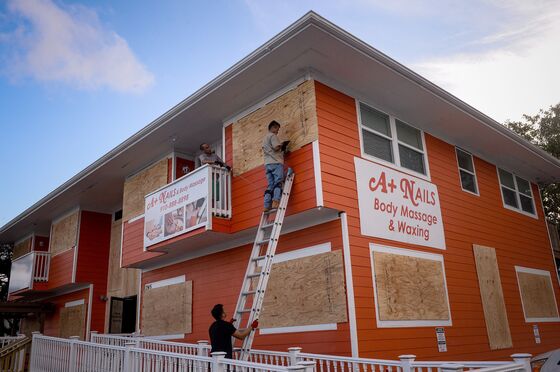 "We are on the wrong side of this storm, where most of the damage is done," Cooper said later in the day. "The rain will last for days."
The storm is currently 370 miles (595 kilometers) east-southeast of Myrtle Beach, South Carolina. It's forecast to slowly approach the coast Thursday and Friday, turn slightly south and then stall. Duke Energy Corp. warned that as many as 3 million residents, 75 percent of its total customer base, may lose power in North and South Carolina.
"It is going to be close to the coast for days,'' said Rick Knabb, a hurricane expert at the Weather Channel in Atlanta. "Landfall is going to be a process not a singular event.''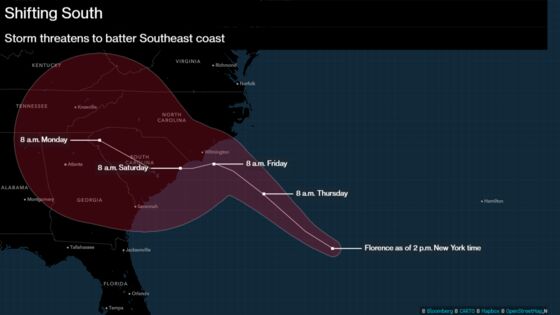 Florence has already cost $1 billion in economic losses, and the storm will probably cause $10 billion to $20 billion in damage, depending on how long the storm sits on the coast, said Chuck Watson, a disaster modeler with Enki Research in Savannah, Georgia.
"If Florence comes inland fast, the price won't be as high," he said Wednesday.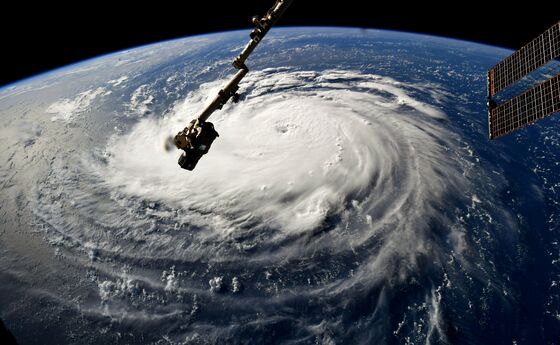 Five major hurricanes, with winds of 111 miles-per-hour or more, have come ashore in North Carolina, Phil Klotzbach, hurricane researcher at Colorado State University said in a tweet. The last was Fran in 1996, which hit as a Category 3, according to National Hurricane Center records.
Other storm developments:
Georgia Governor Nathan Deal issued emergency declarations for all 159 counties in his state as the path of the storm changed.
Remains a Category 3 hurricane, with 115 mile-per-hour winds. Expected to slow as it nears land but will remain a significant threat.
President Donald Trump said the storm will be "one of the biggest to ever hit the East Coast," at the White House Wednesday, and urged people to comply with evacuation orders.
Vice President Mike Pence canceled a trip to Georgia because of the hurricane and would "monitor the federal response" from Washington, his press secretary said on Twitter.
Forecasters also watching Hurricane Helene, which is expected to lose strength in the next few days, and Tropical Storm Isaac, which is passing through the Caribbean.
With four named storms in the Atlantic, forecasters are watching one more potential system that has high odds of becoming a tropical system, for a record five storms
As many as 1 million people have been asked to evacuate North Carolina. More than 300,000 people have already evacuated South Carolina, and that total may reach 1 million, South Carolina Governor Henry McMaster said at a Wednesday briefing.
"You need to leave now," he said. "There's going to be a lot of heavy rain with this hurricane, we know that."
More storm coverage:
Storm is rattling markets
Corporations shutter factories in the region
Storm heading for nuclear power plants
Catastrophe-bond traders assessing potential exposure
Supply chains disrupted 
Airlines are canceling flights
Storm threatens solar industry
Florence may muddle economic data for months
Insurers see costs from business interruption
Sales are up for home-improvement retailers