Floating Island Project Pushes On, Without Peter Thiel's Support
(Bloomberg) -- Peter Thiel was once a seavangelist. The libertarian billionaire had advocated and funded plans for a network of man-made islands floating on the ocean and operating as high-tech ecotopias free of governmental rule. Now, as one prominent venture raises a new round of financing and sets a 2021 deadline for deploying the first islands, the investor is no longer onboard.
The project, called Blue Frontiers, raised $1.4 million this month through a pre-sale of digital tokens that would give buyers a residency claim on future islands and a vote in their charters. Thiel didn't buy any coins and hasn't contributed to the effort since 2014. Blue Frontiers has yet to attain anywhere close to the amount of money or government support needed to get the project off the dock. A person familiar with Thiel's thinking said he helped launch the effort through a charitable gift and has stepped back support because he believes the commercial project must be self-sustaining to work.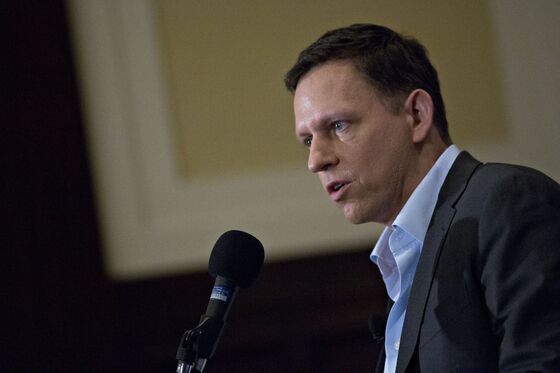 Thiel, a venture capitalist and Facebook Inc. director worth an estimated $3.3 billion, has backed a motley assortment of bets in recent years, including the election of Donald Trump, a secret lawsuit that bankrupted a gossip blog and a program called the Thiel Fellowship to pay college students to drop out in favor of starting companies or social movements. An avowed contrarian, he doesn't always stay true to the causes he adopts. After Trump won the presidency, Thiel aided the transition team for three months and then distanced himself from Washington. He declined at least two positions offered to him in the administration, said people familiar with the matter, who asked not to be identified because the discussions were private.
In 2008, Patri Friedman began exploring the feasibility of free-floating, self-governing islands. Friedman is the 41-year-old grandson of the late Milton Friedman, a Nobel Prize-winning economist and former adviser to President Ronald Reagan. The younger Friedman, a political theorist and software engineer, set up the Seasteading Institute to conduct scientific and engineering research, with some money from Thiel.
A year later, Thiel was trumpeting the benefits of "seasteading"—homesteading, but on the open sea—at the institute's conference in San Francisco, where he described it as "one of the few technological frontiers that has the promise to create a new space for human freedom." Thiel liked the idea so much that he pulled some of his closest colleagues and friends onto the nonprofit's board. Two directors from Thiel's venture growth fund Mithril Capital, two representatives of the Thiel Foundation and Joe Lonsdale, a former PayPal employee who started data-mining company Palantir Technologies Inc. with Thiel, have all served as Seasteading Institue directors.
But according to tax returns for the nonprofit, Thiel's last year on the board was 2011. Last year, Thiel dismissed the seasteading concept outright. "They're not quite feasible from an engineering perspective," he told the New York Times.
Around the same time, the nonprofit passed the baton to Blue Frontiers, a newly created commercial organization, to make the idea a reality with help from the institute's research. The plan is to build something like an oil rig with restaurants and villas but without the highly lucrative revenue stream that crude brings. Like Thiel, they determined that, at least for now, floating cities on the open sea are too pricey. Friedman now works at Google.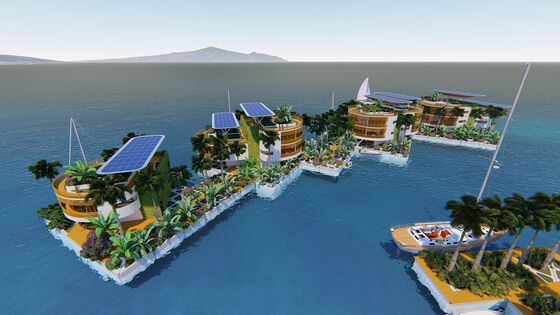 Seasteads will need to float close to land for supply runs, maintenance and repairs to be cost-effective, the organization said. Blue Frontiers identified 51 countries that could reasonably host seasteads offshore. It honed in on French Polynesia and struck a preliminary partnership with the government in 2017. Bowing to pressure from citizens concerned about tech colonization, officials didn't renew the agreement.
Randy Hencken, executive director of Blue Frontiers, said French Polynesia remains the target location for the first project. The Singapore-based group expects to have finalized engineering designs by the end of this year and begin building prototypes, testing wave models and resolving manufacturing issues by next June. Blue Frontiers hopes to host 200 to 300 people with offices, restaurants and living quarters across a dozen platforms, each costing $5 million to construct.
More than 1,000 would-be seasteaders from five continents, including TechCrunch founder Michael Arrington, bought tokens in the Blue Frontiers ICO, which ended on July 14. The notes, called Varyon, are a flavor of Ethereum, a popular cryptocurrency co-created by a Thiel Fellow.
Although nearly $4 billion was spent on ICOs last year, several high-profile businesses quickly folded, disappointing buyers and prompting Chinese regulators to ban the practice. The U.S. Securities and Exchange Commission has issued warnings and even played a practical joke involving a fake ICO. More than $3 billion has gone into ICOs so far this year, although spending was overwhelmingly concentrated in January.
Blue Frontiers' fundraising effort fell well short of the total needed to make the project a go. However, Hencken said he was pleased with the initial offering, given that it was a limited, private sale and that Ethereum prices were trading near a low. Blue Frontiers plans to sell more Varyon through a public ICO at a later, yet-to-be announced date. The tokens will allow holders to "stake" their ownership, residency or presence in a SeaZone, the term for an independent island nation built by Blue Frontiers. Varyon ownership also guarantees voting rights in the new communities.