Floating Dwellings Turn Into Value Traps for Hong Kong Expats
(Bloomberg) -- About 180 families living on board vessels in Hong Kong's Discovery Bay are having their boats severely rocked, and it isn't because of the typhoons that regularly sweep through the city around this time of year.
Residents at the cove's marina have been hit with unexpected eviction notices, telling them they must move their boats before Dec. 31. Discovery Bay Marina Club is closing for extensive renovations to "meet the needs of Hong Kong's growing sailing and pleasure-boating community," according to a Sept. 24 club statement. A reopening date hasn't been announced.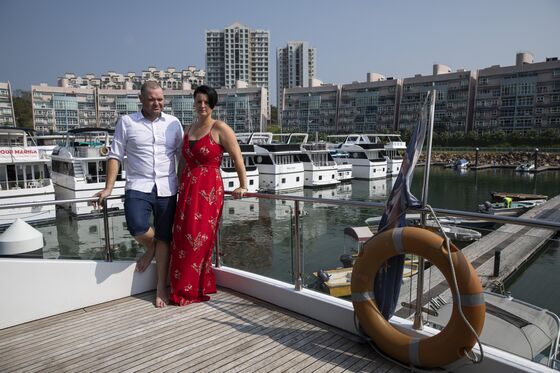 With little option of moving their houseboats elsewhere in Hong Kong's crowded waters, or selling up entirely, the families face the daunting task of finding alternative accommodations in the world's least-affordable housing market. Apartments in this area that offer the same space as a 60-foot boat can cost around HK$30 million ($3.8 million), putting them out of reach for all but the most well-heeled.
There's another sting, too. To berth at the marina requires a debenture, a sort of license that is typically bought and sold along with a boat. All Discovery Bay Marina Club debentures will redeemed at face value at the end of the year. Without a debenture, a boat's value decreases significantly.
"You've got a bunch of pilots, lawyers, doctors, smart people on the marina," said New Zealander Casey Kiihfuss, a stay-at-home mom whose boat has been berthed at the club for five years. The marina "would be completely empty if we knew that, in 2018, we were all getting kicked out."
Hong Kong, which comprises Hong Kong Island, the Kowloon peninsula and more than 260 smaller islands, is known for being densely populated, and that extends to its waterways. The few other marina facilities are at full capacity. Typhoon shelters are another option, but don't offer access to basic amenities like water and electricity.
Regardless, living on the water has long appealed to those seeking an alternative to high-rise city life. Some companies even help to finance debenture purchases and provide boat mortgages.
Houseboats can also compare favorably cost-wise. While vessel owners must pay membership and mooring fees, which can be about HK$24,000 a month for a 60-foot boat, the rental cost for a dwelling with at least 2,000 square foot of gross floor area in Discovery Bay ranges from HK$42,000 to HK$150,000 a month, data from property search portal Gohome.com.hk show.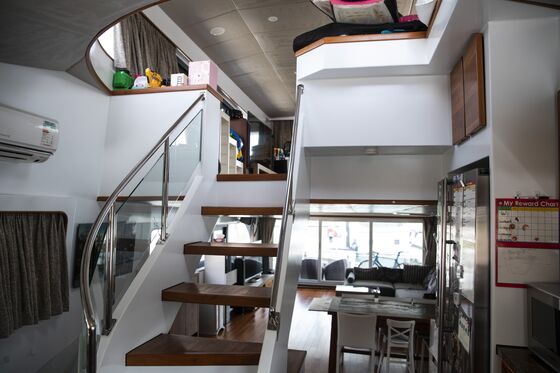 Kiihfuss and her husband, a pilot, paid HK$8.5 million five years ago for their 60-foot boat, with debenture. The family of five had planned to stay on the four-bedroom, three-bathroom vessel until they'd saved enough money to buy an apartment. Saddled with a HK$6.1 million mortgage and debenture that only has three months to run, Kiihfuss said the boat will be almost impossible to sell. The family must now find a suitable home onshore, which Kiihfuss estimates could cost about HK$90,000 a month -- on top of the HK$63,000 monthly mortgage repayment on the houseboat.
The Discovery Bay Marina Club, which is owned by Hong Kong Resort International Ltd., says the redemption date of Dec. 31, 2018 is "clearly printed on each and every debenture and is known to the holders since their acquisition." Hong Kong Resort is controlled by the family of Laura Cha, Hong Kong Exchanges & Clearing Ltd.'s chairwoman.
"DBMC is exercising its contractual rights," the club said in its Sept. 24 statement. "There is no obligation for DMBC to provide prior or further notice for this long-established date."
Residents have petitioned for the 29-year-old club to delay the renovation, or do it in stages, as well as give more clarity on when they will be able to return.
They aren't the only ones who risk losing out. Some boat builders have unsold vessels at the club, while financing firms including Hitachi Capital Corp. and Orix Corp. face potential defaults on boat mortgages.
Hitachi Capital and Orix didn't immediately respond to requests for comment.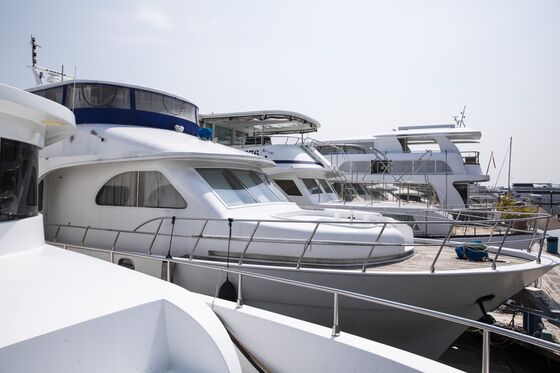 "Hong Kong Resort hasn't been transparent," said Scott Thoreau, an executive director with media group Meredith Corp. who's lived on a boat for eight years and been a boat owner for the last five. He claims the club's then manager told residents notification of the debentures would be sent after July 2017. That date came and went, leading residents to believe the debentures would be renewed as they had been before, most recently in 2008. The notice of eviction eventually came on Aug. 31 this year.
Thoreau paid HK$5.5 million for his boat and has HK$3 million left on the mortgage. The face value of his debenture is HK$138,000.
"The majority of the people that have boats have mortgages," Thoreau said. "We're not the wealthy expats that some people make us out to be."