Float, But Not Too Far Please: Argentina Bows to Peso Reality
(Bloomberg) -- It was hard evidence that Argentina's new leader was different from his predecessors, a market-friendly guy. President Mauricio Macri came to power in 2015 on a pledge to let the peso float freely.
And he mostly did. Until it sank.
For Argentina traders, who watched the peso extend losses in early trading Friday, next week marks the start of a new regime -– a condition of the enlarged $57 billion bailout agreed with the International Monetary Fund this week. The central bank, which has spent billions this year to prop up the peso, is supposed to retreat to the sidelines so long as the currency remains in what's been dubbed a "non-intervention zone.''
The IMF says the new system, designed to prevent its cash from getting handed to speculators, is still a free float. But for the first time under Macri, policy makers have been obliged to spell out where they want the currency to trade, and how much they'll spend to keep it there.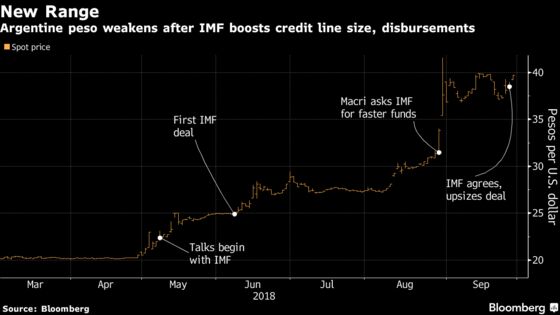 It amounts to recognition that Argentina isn't ready to let markets determine the peso's value on their own. The economy is still too fragile after a traumatic default and a decade of free-spending populism.
Inflation has accelerated above 30 percent as the currency lost more than half its value this year. Output shrank 4.2 percent last quarter and is forecast to keep contracting into 2019, an election year.
"The problems in Argentina are decades in the making, and undoing them will take herculean efforts,'' said James Gulbrandsen, a Rio de Janeiro-based money manager who helps oversee $3.5 billion at NCH Capital. "Any kind of currency price-controls typically end in tears unless the economy in question works aggressively to fix what ails it.''
For Macri, that means getting inflation down and the budget closer to balance. He's announced spending cuts and tax increases for next year. Meanwhile, the central bank will give up on inflation targeting and setting interest rates. Instead it will try to rein in prices by freezing the supply of money, which had been growing by about 2 percent a month.
With record amounts of IMF cash behind the plan, some investors are betting that it stands a decent chance of working. Bond spreads between Argentina's debt and U.S. Treasuries declined 20 basis points on Thursday, the day after the Fund deal was announced.
"It's a monetary experiment, but the fiscal and current-account adjustments are finally under way,'' said Luis Carrillo, a portfolio manager at JPMorgan Asset Management in New York. "The credit market is increasingly more confident that they will not default.''
Peso trading, by contrast, was thin and volatile as market participants struggled to figure out the new regime. The currency fell 3 percent on Thursday and extended losses at the opening of Friday's session, dropping another 2 percent to 40.5 per dollar. It's edging toward the upper limit of the central bank's range of 34 to 44 per dollar.
Under the IMF plan, the bank can spend $150 million buying the peso if it drifts outside that zone. Some traders were skeptical of the limit, arguing that in the event of a shock in Argentina, or a wider run on emerging markets, it won't suffice.
"Personally, I wouldn't have disclosed the amount,'' said Gustavo Quintana, a currency trader at PR Corredores de Cambio in Buenos Aires. "When the market is thirsty for dollars, $150 million isn't enough to calm it.''
Quintana said he expects the peso to trade at "the weaker end of the range, at least in the first few months,'' because there won't be many big dollar sellers until revenues from Argentina's wheat harvest come through in December.
Even if flows of money pose a short-term risk for the peso, its fundamental longer-term prospects are rosier, according to Charles Robertson, chief economist at Renaissance Capital in London.
The IMF deal allows the central bank to adjust its peso range by 3 percent each month, so it can accommodate still-rising prices. That's known as a "crawling'' exchange-rate regime. Robertson says he likes them.
"They have a successful history in central Europe of transitioning fragile, undervalued currencies into freely floating currencies,'' he said. Plus, "the peso is now cheap'' -– and Argentina's previous efforts to combat inflation weren't working anyway.
The central bank raised its benchmark rate to 60 percent, the world's highest, in August. That would put the squeeze on prices in most economies.
But Argentina is different. It spent more than a decade frozen out of financial markets after defaulting on debt when an earlier IMF program, based on a fixed peso-dollar exchange rate, failed in 2001. Social unrest and a deep recession ensued –- one reason why Macri is taking a big political risk by going back to the Fund. Then came populist rule, persistent inflation and currency controls.
All that volatile history means there's not much peso lending in Argentina. Credit to households and non-financial firms is about 20 percent of GDP, according to the Bank of International Settlements. It's double that in Mexico and triple in Brazil.
"Who cares if interest rates are 60 percent if there's no debt?'' said Robertson. "The only anti-inflation anchor is the currency.''