Five Things to Watch for Before Vote on $62 Billion Takeda Deal
(Bloomberg) -- Takeda Pharmaceutical Co. is approaching the final lap in its $62 billion pursuit of Shire Plc. The drugmaker said this week it expects the deal to close in January. The largest-ever takeover of a foreign firm by a Japanese company has drawn the scrutiny of investors over its scale and potential risks. As it nears the finish line, here are five things to watch for.
Read more: Takeda Shareholders to Vote Dec. 5 on $62 Billion Shire Deal
Europe is the last major market Takeda needs to sign off on the deal, after others including China and the U.S. already approved the transaction. European antitrust regulators are expected to announce their decision by Nov. 20. The Japanese company's setting of a Dec. 5 shareholder vote before getting a ruling from the European Commission means Takeda is confident it will get the approval.
Takeda has already offered to shed an experimental inflammatory bowel disease drug in Shire's pipeline as part of the process to gain European antitrust approval. Further moves are likely in the works, as the company has laid out a possible debt-reduction scenario that includes selling up to $10 billion of non-core assets. Medicines like Shire's eye drug and Takeda's over-the-counter drug business in Europe are being considered as potential disposals.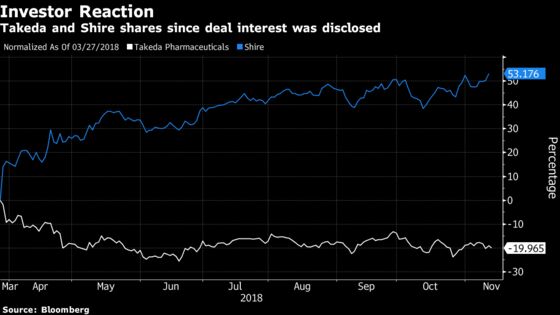 Various groups will be taking positions and stepping up their arguments on the deal in the weeks ahead:
Chief Executive Officer Christophe Weber is seeking to lead the conversation, touting the deal's benefits and seeking to ease concerns of both international investors and Japanese shareholders.
A group of dissident holders, which includes members of Takeda's founding family, have started an opposition movement, citing the financial risk and potential impact on Takeda's dividend. Yet they hold less than 1 percent of shares and haven't gained much traction with larger shareholders.
Proxy advisers such as Institutional Shareholder Services Inc. and Glass Lewis & Co. will be making a recommendation on the deal.
Ultimately, analysts expect the takeover will win support from shareholders of both companies on Dec. 5.
Takeda still has to convert about $18 billion in the bridge loan it took on for the Shire deal into permanent financing. About $14 billion of that is expected to be done via a bond offering. The financing plans are being closely scrutinized by the credit rating companies, and both S&P and Moody's Investors Service have put the company on watch for possible downgrade. Takeda is expected to continue making announcements on financing as the date edges closer to the deal closing.
Takeda has already said it expects $1.4 billion in synergies annually by the end of the third year of merging operations, and acquisition-related costs of $2.4 billion over that period. But the company still needs to detail the impact of acquiring Shire on its top and bottom lines for the current year ending in March. Shire's solid third quarter provides support for the Takeda takeover.