Five Key Things to Watch for in South African President's Speech
(Bloomberg) -- South African President Cyril Ramaphosa will deliver his state-of-the-nation speech to parliament in Cape Town on Thursday. The address, scheduled to begin at 7 p.m. local time, comes as the country struggles to curb the spread of the coronavirus and contain the economic devastation it has wrought.
The pomp and ceremony that normally accompanies the annual event will be largely absent this year. Under prevailing lockdown rules, only 50 people will be allowed inside the National Assembly, with the balance of lawmakers and guests taking part via an online platform.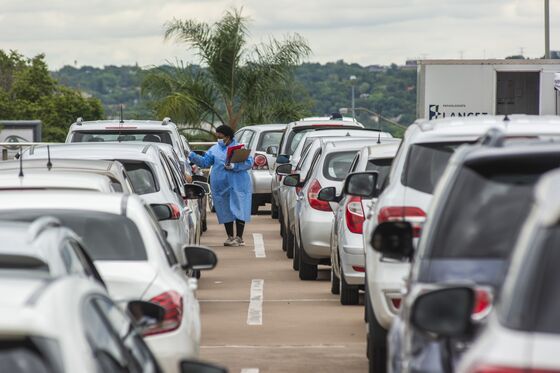 Here are five key things to watch for in Ramaphosa's speech:
1. The Covid-19 vaccine rollout
The government intended to start providing shots developed by AstraZeneca Plc and the University of Oxford to health-care workers this month. Its plans were thrown into disarray this week when a study showed the vaccine had little impact on mild infections caused by a variant of the virus first identified in South Africa. Johnson & Johnson's vaccine will now be used for the initial round of inoculations. Ramaphosa could elaborate on talks to secure additional doses from the company and other suppliers, and provide details on how they will be funded and dispensed.
2. Plans to revive the economy
The central bank estimates that Africa's most-industrialized economy shrank 7.1% in 2020 because of the pandemic and accompanying lockdowns. Ramaphosa unveiled a recovery plan in October last year that targets an average annual economic growth rate of 3% over the next decade, and focuses on job creation and increased infrastructure investment. Business groups say the government has been slow to deliver on promised reforms to make it easier to do business and inspire confidence -- complaints the president is likely to address. He may also respond to calls by labor unions for the nation's Unemployment Insurance Fund to restart payments to people who lost their jobs or had their salaries cut because of the pandemic.
3. Measures to address electricity shortages
South Africa has been plagued by rolling blackouts since 2005 because state power utility Eskom Holdings SOC Ltd. has been unable to meet demand for electricity from its old, poorly maintained plants. Numerous government pledges to address the problem remain unfulfilled. Ramaphosa is likely to spell out what's being done to secure additional supply from independent producers, and improve Eskom's performance, reorganize its operations and tackle its unsustainable debt.
4. The way forward for South African Airways
The state-owned carrier was placed into bankruptcy protection in late 2019 and has been dormant for almost a year. Ramaphosa could reveal what's being done to get SAA flying again and whether any headway has been made in finding a buyer for a stake in the airline. While the National Treasury has set aside 10.5 billion rand ($716 million) to help resuscitate SAA, that may not be enough given the slump in demand for air travel amid the pandemic.
5. The auction of broadband spectrum
The government has been promising for years to release additional broadband spectrum and could finally deliver this year. The telecommunications regulator has received six applications in response to the invitation to apply for access to the high-demand spectrum and intends concluding the process of auctioning by the end of next month. While MTN Group Ltd., Africa's largest wireless carrier, complained that it was being shut out of the bidding and asked the High Court to correct or set aside elements of the process, Ramaphosa may give assurances that the auction remains on track.