Five Days of Straight Pain With Potential for More: Taking Stock
(Bloomberg) -- A frustrating afternoon full of U.S-China trade head fakes bewildered the financial community on Thursday.
It was Wilbur Ross's word (still planning tariff hike on Chinese imports in January) versus reported comments from USTR's Lighthizer (next tranche of levies already on hold) that ultimately made every trader's head spin when the denial from Lighthizer's office hit the tape. And yet somehow, the S&P 500 closed higher by more than 1%.
But we're pulling back a bit this morning, with the e-minis down 14 handles, as all eyes will be on the semiconductors and retailers. These are two groups that have underperformed the broader market since the October meltdown began and may be under a considerable amount of pressure again after a rough bout of earnings after the bell.
Double Whammy
The semis, which had a huge up day on Thursday (SOX +3.3%), may give a lot of those gains back, if not the whole megillah, as they reel from disappointing forecasts from both Nvidia and Applied Materials, whose shares are cratering 17% and 7.3%, respectively.
Nvidia is looking to open at 52-week lows after quarterly results and guidance missed consensus by a substantial amount thanks to weakness in gaming and the fallout from crypto mining; B. Riley FBR downgraded the stock as a result for the first time since a 2014 upgrade while Goldman removed the buy-rated name from its conviction list
Applied Materials's January quarter forecast was the real whiff, but the bulls out there are all talking about how close the stock is to a trough, both in the sense of bad news hitting the tape as well as the stock performance; Citi defended the stock and added it to the "semis shopping list" while Evercore said shares are "closing in on a bottom"
It'll be interesting to see if any weakness in the SOX gets bought, as that could be a positive signal for tech land; I'd note that the initial impact from both Nvidia and Applied Materials stymied even a modicum of a bid for Intel after it announced a $15 billion buyback
Five Days of Pain
Retailers, on the other hand, have been selling off all week -- the XRT is on a five-day losing streak -- thanks to cautious gross margin comments flagged by the department store trio of Macy's, Dillard's and J.C. Penney in addition to a slight margin contraction in the quarterly print from Dow component Walmart. The weakness should continue with post-earnings selloffs in Williams-Sonoma (-13%) and Nordstrom (-9%), none of which bodes well ahead of a cascade of earnings in the space next week.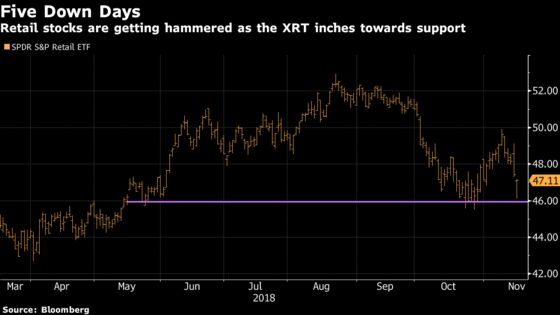 Odds are that the upcoming holiday week won't be a quiet one given all of the recent tape bombs (read this story that highlights all of the blowups), the fluid situation on Brexit, and the conflicting trade headlines that we've received over the past four days.
On the catalyst front, we'll get multiple housing data points at a time when the S&P Supercomposite Homebuilding Index, or S15HOME, is eyeing mid-October lows after what appears to be a short-lived relief rally (just like Zelman talked about the other day). I'd also imagine that the weekly oil inventory and natural gas storage reports will be under more intense scrutiny than usual given the recent blowouts in both commodities.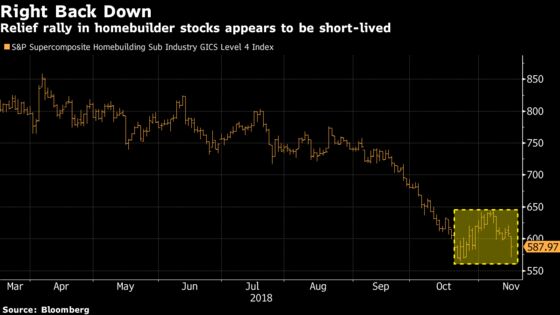 As for earnings, we'll get a flood of retailers (Target, Lowe's, Kohl's, Gap, TJX, L Brands, Best Buy) in addition to agriculture machinery bellwether Deere. A select group of tech biggies will report, including Chinese e-commerce large-caps JD.com, whose CEO and founder was arrested for alleged sexual misconduct in September, and Pinduoduo, which was recently targeted by Blue Orca's Soren Aandahl, the short seller and former head of research for Glaucus. Two software companies, Intuit and Autodesk, round out earnings in the space.
Notes From the Sell Side
Goldman cut its price target on neutral-rated GE to $9 from $12, as they still see more questions than answers after going through the 10-Q. One change is they now have "heightened focus on GE Capital where there could be further headwinds (e.g., potential for the equity infusion from Parent to Capital to be larger than the $3bn previously stated for 2019)."
BofAML double downgrades Energizer from a buy to an underperform (price target $50 versus the average of $63.50) on concerns over the Spectrum auto care acquisition, which was unexpected, especially with the unit's struggles of late; the analysts add that deal accretion "seems less meaningful on our first take" (3% dilutive year one and just 8% accretive over three years).
BofAML is also slashing its rating on Home Depot to a neutral on the belief that 2018 was the peak in earnings growth and 2017 was the peak in comps. A proprietary barometer comprised of 14 factors shows that home improvement conditions are expected to soften "somewhat" in the second half of 2019.
Target got a double dose of bullishness ahead of Tuesday earnings with initiations from Keybanc (Street high price target $110) and Buckingham (target $102).
Tick-by-Tick Guide to Today's Actionable Events
Today -- CTSH investor day
Today -- Society for Neuro-Oncology meeting with data from ZIOP, AGIO
8:00am -- VIAB earnings
8:00am -- FLR investor day
8:30am -- VIAB earnings call
9:00am -- XLRN R&D Day
9:15am -- Industrial Production
10:40am -- IAC CEO Joey Levin on Bloomberg TV
11:00am -- HP earnings call
11:30am -- Fed's Evans speaks at Fixed Income Forum roundtable
10:00pm -- China Bloomberg Economic Survey