Riksbank's First Hike Since 2011 May Just Have Moved Closer
(Bloomberg) -- The Riksbank may be closer than ever to raising interest rates for the first time in seven years.
An inflation report on Thursday showed Swedish prices rose at the fastest pace in a decade, providing policy makers at the central bank in Stockholm with a clear path out of an historic era of monetary stimulus that has included negative rates and quantitative easing.
The Riksbank has signaled it will be ready to raise its main rate from minus 0.5 percent in December or February. But economists warn that the window in which the bank can act is small.
"The period for raising rates is short," Nordea Bank Abp chief economist Annika Winsth said in a telephone interview. "Inflation won't remain this high in the longer term," and with the economy showing signs of having peaked, "our view is that it will get harder if they wait longer."
In September, the Riksbank left several economists confused and was criticized for delivering a "very unclear signal."
Now, it seems clear that the bank will raise rates in December, according to Nordea analyst Andreas Wallstrom.
Underlying inflation in Sweden was 2.5 percent last month, its highest level since 2008. The figure beat forecasts by analysts and the Riksbank, and drove the krona as much as 1.4 percent higher against the euro.
Like Wallstrom, SEB AB also argues that the "stronger than expected" upturn in underlying inflation "tipped the scale in favor of a December hike."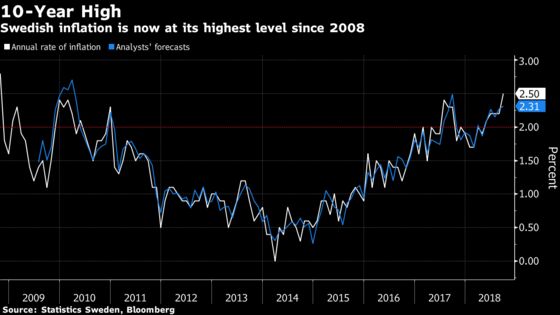 Speaking before Thursday's inflation report, Riksbank Deputy Governor Cecilia Skingsley said price growth was stabilizing around the 2 percent target rate, with inflation expectations finally being anchored.
"So if the economy continues as we have forecast, there is scope for a gradually reduced monetary-policy expansion," she told reporters in Stockholm. The September inflation number marked the first time since November last year that prices have grown faster than economists expected, on average.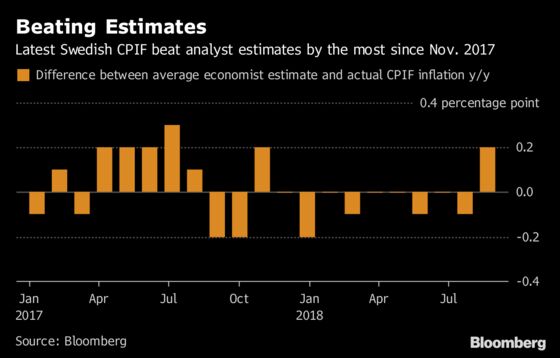 SEB chief economist Robert Bergqvist said that while "the Riksbank seems to have made its mind up to raise rates" in December, it "should have started raising rates earlier," since it may now have to face "a situation where it will struggle to meet the next downturn."
"It's time to end this extreme policy," he said. "Monetary policy needs to rebuild some muscles."