Celebrities Pledge Support for Wildfire Crisis: Australia Update
(Bloomberg) -- Authorities are assessing mass property damage across southeastern Australia after searing temperatures and strong winds exacerbated catastrophic wildfires Saturday in one of the worst days of the weeks-long crisis.
Dozens of communities, from small towns on the south coast of New South Wales, to alpine villages in neighboring Victoria state, were razed as fires grew so large they generated dry thunderstorms. Milder weather, including patchy rain, across scorched areas brought some relief Sunday, though flame-fanning wind gusts have frustrated efforts to quell about 200 blazes before fire conditions worsen later in the week, authorities said.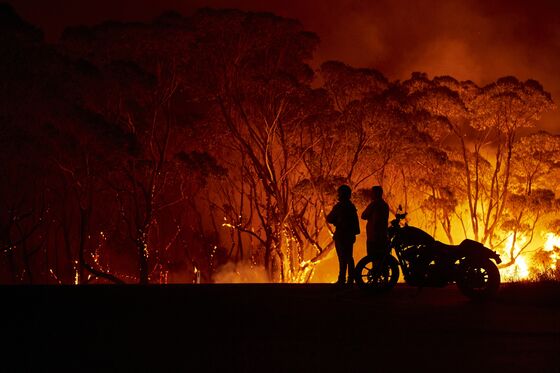 Thousands of people, including tourists, heeded the advice of authorities and evacuated a 350-kilometer (217-mile) stretch of coastline as well as dangerous inland areas over the past few days to escape the intensifying infernos. But many remained, hosing down their properties to protect against falling embers as they anxiously waited to see if the winds would blow the fire front in their direction.
The unfolding tragedy, that's blackened about 5 million hectares (12.3 million acres) across New South Wales, Victoria and South Australia alone, has prompted millions of dollars of donations and support from international celebrities, sports stars, and the British Royal Family.
Two people died in wildfires that have destroyed more than a third of South Australia's Kangaroo Island, devastating the national park and farmland and severely damaging the luxury Southern Ocean Lodge resort. Penrith, on the outskirts of Sydney, reached a record 48.9 degrees Celsius (120 degrees Fahrenheit) Saturday, symbolic of the dangerous weather conditions that have fanned ferocious flames and sparked new blazes further south.
Prime Minister Scott Morrison announced Saturday an unprecedented level of military support to boost firefighting and recovery efforts as the national death toll from four months of infernos rose to 23.
A video set to electronic music posted on Morrison's Twitter and Facebook accounts outlining the additional measures sparked thousands of comments. Some praised the deployment of as many as 3,000 army reservists, while others, including the Australia Defence Association, lambasted the 50-second clip, which spawned mocking renditions.
Morrison told reporters Sunday that the video was produced to "communicate as simply and helpfully" as possible what the government is doing to help people.
Here's the latest (all times local):
Emergency warnings (4:30 p.m.)
Emergency warnings remain for three wildfires in Victoria, and one has prompted a call to evacuate now, even as cooler weather has brought some relief, the state's Emergency Management Commissioner Andrew Crisp told reporters in Melbourne. About 800,000 hectares (2 million acres) have been burned in East Gippsland and 180,000 hectares have been razed in the state's northeast, he said.
"We have had a couple of very difficult days," Premier Daniel Andrews told the media briefing. "Today is a bit easier."
The number of people unaccounted for across the state has fallen to four from seven earlier Sunday, Andrews said. His government will contribute A$2 million ($1.4 million) to a Victorian Bushfire Fund supported by Bendigo and Adelaide Bank Ltd., almost matching pledged donations from the public, to support relief and recovery efforts in affected communities.
Flights canceled (3:00 p.m.)
Qantas Airways Ltd. canceled afternoon flights arriving in and departing from Canberra, where air pollution was at least four times higher than the minimum threshhold for "hazardous, " prompting the release of particulate-filter masks from the national stockpile. Mail deliveries to the national capital were suspended Friday by Australia Post, which cited the impact of poor air quality on the safety of its workers.
Fire activity has eased around the southeastern New South Wales town of Eden, the New South Rural Fire Service said. Earlier, massive wildfires that crossed the Victorian border encroached on the coastal town, prompting warnings from authorities for those remaining there to leave.
Dozens of people had sought shelter on Eden's wharf, but police say that area is no longer safe, ABC reported. The Rural Fire Service said people in the town should seek shelter in a solid structure and enact their fire plans.
The Royal Australian Navy's HMAS Adelaide is stationed offshore with about 400 personnel to aid relief efforts.
Energy impact (1:17 p.m.)
Extensive wildfire activity in the Snowy Mountains region of New South Wales has hindered electricity supplies, the state's Department of Planning, Industry & Environment said in a statement.
The Australian Energy Market Operator, TransGrid, and state and territory governments are working closely to keep power supplies on, but weather conditions Sunday may cause power to be turned off in parts of the network ahead of peak evening demand.
New Zealand aid (12:40 p.m.)
New Zealand will send three helicopters and crew and two army combat engineer sections to Australia as part of additional support for wildfire-fighting efforts, Defense Minister Ron Mark said.
The New Zealand contingent will deploy in the coming week to the Royal Australian Air Force's Edinburgh based in Adelaide, South Australia, and will remain in Australia at least until the end of January, Mark said in a statement Sunday.
Fire Emergencies (12:30 p.m.)
Firefighters are battling 48 blazes across Victoria state, including two that represent a severe threat, the state's Emergency Management Commissioner Crisp told reporters in Melbourne.
About 900,000 hectares have been razed, mostly in the state's East Gippsland region. Seven people are unaccounted for in the state, which has maintained "disaster" footing to heighten the political response to the crisis, which Crisp described as "dynamic" and "dangerous," even as cooler weather and rain helped quell the firefronts.
Recovery agency (11:30 a.m.)
Australia will mount a national bushfire recovery agency to run for two years to support the health and well-being of people affected by the wildfires and recovery efforts, Morrison told reporters in Canberra. The government's midyear budget projections are still on track even with the additional fire-fighting costs, he said.
The government is calling for helicopter support from allies to help combat the wildfires, Defense Minister Linda Reynolds said during the briefing.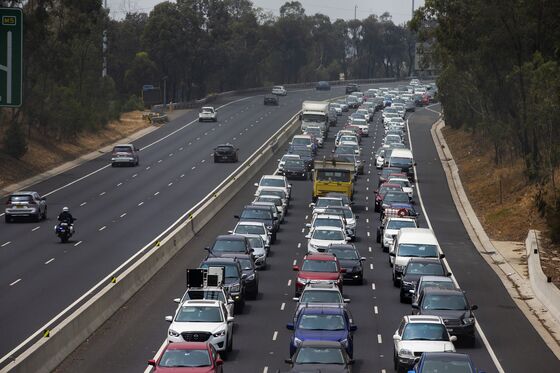 Losses mount (11:08 a.m.)
The Insurance Council of Australia estimates fire-related losses at A$375 million from 5,850 claims received so far. It's the "widest ranging bushfire catastrophe that we have ever declared," Campbell Fuller, a spokesman for the council, told ABC television.
Assessments of property damage from Saturday's inferno are expected to be tallied later Sunday.
Milder weather (8:15 a.m.)
Milder conditions in New South Wales are providing some relief after a "very long night for many residents," New South Wales Premier Gladys Berejiklian told reporters in Sydney.
No one is unaccounted for in the state. Authorities may have estimates of the extent of property damage as early as Sunday afternoon, she said.
Almost 150 "volatile, dynamic" fires are still blazing across the state, Rural Fire Service Commissioner Shane Fitzsimmons said, after the service's second-busiest day.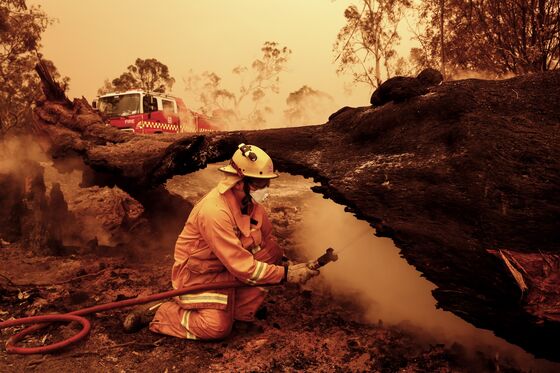 "It was an awful day yesterday, a very difficult day," Fitzsimmons said, adding that hot weather forecast later in the coming week may bring more fires.
Property losses will run into the "hundreds," he said. Four firefighters were injured battling blazes in New South Wales, and a 47-year-old man died from a cardiac arrest after aiding efforts.
Property damage (7:30 a.m.)
Communities are bracing for news of property damage and loss early Sunday after another long night for firefighters. Southern New South Wales was ablaze into the early hours, with two emergency-level fires burning, including in the Bega Valley, near Victoria's northeastern border.
Cooler weather and light rain across parts of eastern Victoria has provided some relief and enabled firefighters to reduce the number of emergency-level fires to 4 from 17.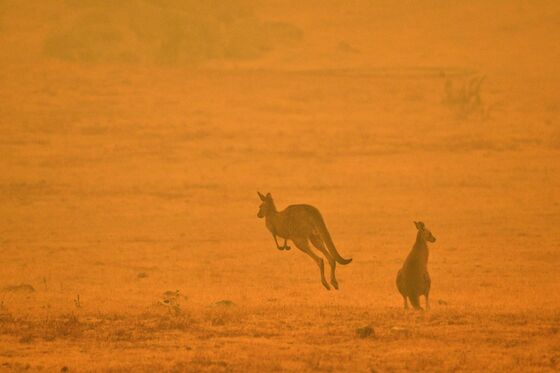 Officials issued new emergency warnings for bushfires that hit communities including Buldah, Cann River and Club Terrace in Victoria, saying it's too late to leave. Hours earlier, residents of Dandongadale and Nug Nug were advised to evacuate immediately.
At midnight, the fire service in New South Wales said the threat is "still not over" with seven fires at emergency warning and 11 labeled watch and act. A statewide total fire ban remains in effect for Sunday.
"This is not a bushfire," New South Wales Transport Minister Andrew Constance told ABC radio. "It's an atomic bomb."