Fintech Star Adyen Beats Revenue Estimates as Merchants Grow
(Bloomberg) -- Adyen NV reported a 54 percent rise in second-half net revenue, beating analysts' estimates as the fintech darling continues to deliver on rapid growth.
The Dutch company, which processes payments for Netflix Inc., Gap Inc. and Spotify Technology SA, posted 192.5 million euros ($219 million) in net revenue for the six months ended December. Adyen also said it processed 89 billion euros in payments for the period, an increase of 50 percent on the year before.
"We saw strong profitable growth in the second half of 2018, largely due to the continued growth of enterprise merchants on our platform," Chief Executive Officer Pieter van der Does and Chief Financial Officer Ingo Uytdehaage said in a letter to shareholders.
Shares rose as much as 6.3 percent in early trading in Amsterdam, before falling by 2.8 percent as of 4:45 p.m.
The Dutch payments processor has excited investors since the company's debut in June, pushing shares up from its initial listing at 240 euros to as much as 758.90 euros in mid-September. But analysts have warned there is limited upside for the stock, given the expectations of high growth are already baked into the share price.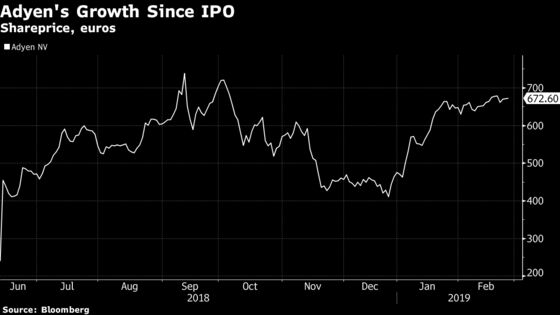 Analysts on average had expected the company to post 182.9 million euros in net revenue, which strips out fees paid to card networks and amounts to the revenue attributable to the firm. The company's results for the second half mean Adyen posted a 60 percent rise in net revenue for the full-year, beating its own guidance of at least a 40 percent increase.
"Though a total processed volume of 159 billion euros will be disappointing to the market, the high take-rate and strong cost control positively surprises us," analysts at KBC Securities said in a research note.
The Amsterdam-based company reiterated its previous goal to grow net revenue and achieve a growth rate between the mid-twenties and low-thirties in the medium term. It also repeated its aim of boosting annual earnings before interest, taxes, depreciation and amortization margin to above 55 percent in the long term, once current investment efforts begin to pare down. The company doesn't define what it perceives as medium or long-term. On Wednesday, it reported a 58 percent Ebitda margin for the second-half.
Adyen said the guidance doesn't account for changes to IFRS accounting standards with regards to leases that took effect in January this year. The changes could result in a marginal increase in the Ebitda margin, the company said.