Fintech's Adyen Shows the Long Path to Unseat Giants of Finance
(Bloomberg) -- With Adyen NV almost doubling in its trading debut Wednesday and Ant Financial raising $14 billion in its latest funding round, it's tempting to assume fintech's rising stars are about to displace financial industry stalwarts.
Not so fast: There's still just one such company among the 20 largest global powerhouses. And that firm, PayPal Holdings Inc., only cracked $100 billion in market cap in January -- 30 months after going public and 20 years after its founding by a group that included future billionaires Elon Musk and Peter Thiel.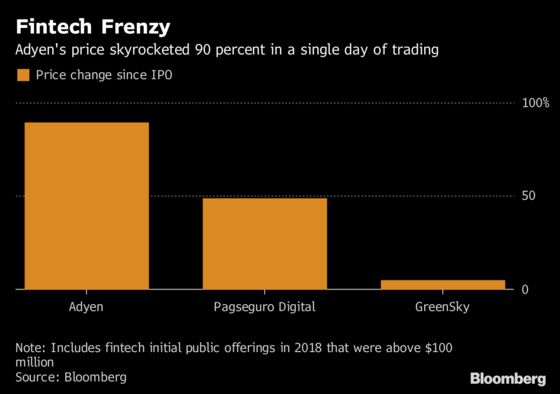 That's not to dismiss the recent run of eye-popping initial public offerings like Adyen's, which suggest it's possible to compete with the big guys. Even after Ant Financial's funding round gave it a valuation of about $150 billion, it still doesn't crack the top 10, according to PitchBook Data Inc. In fact, the 2018 list of the biggest companies in finance doesn't look all that different than it did in 2008.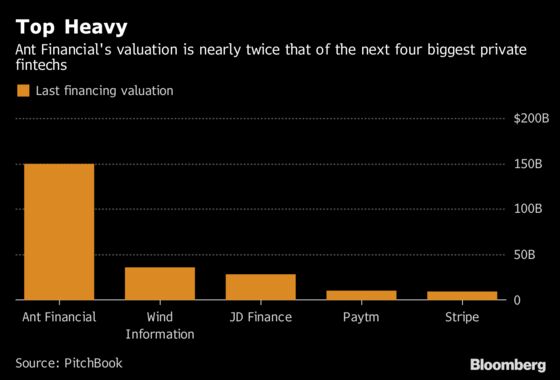 Warren Buffett's Berkshire Hathaway Inc. ranks first with a market capitalization of more than $480 billion. The conglomerate was No. 2 in 2008, behind only Industrial and Commercial Bank of China Ltd. ICBC now holds the third spot, surrounded by holdouts from a decade ago like JPMorgan Chase & Co., Bank of America Corp. and HSBC Holdings Plc.
While there has been some upheaval in the ranks, it's resulted from self-destruction rather than usurpation. American International Group Inc.'s market cap is half as big as in 2008, before its near-collapse and government bailout during the financial crisis. Banco Santander SA and BNP Paribas SA are two other casualties of that debacle.
New entrants on the list include Visa Inc. and Mastercard Inc. Tempting as it is to christen them as the first wave of fintech disruptors, keep in mind that the two credit card companies were previously owned by groups that included thousands of old-fashioned banks.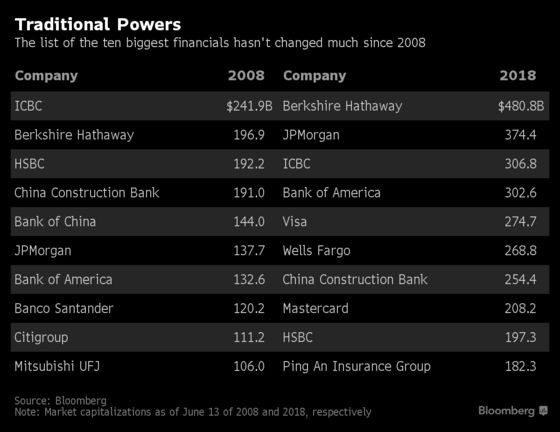 After PayPal, Jack Dorsey's Square Inc. is the next-biggest fintech company. The credit-card processor's market capitalization jumped to $25 billion after its shares gained 80 percent this year.
A public offering by Ant Financial would immediately place the Chinese payments company among the world's largest financial institutions. Founded by billionaire Jack Ma, the company was affiliated with online retailer Alibaba until 2011. Based on its latest private valuation, it's worth more than the combined values of Goldman Sachs Group Inc. and AIG.