New Finance Minister Taught by Milton Friedman Says Panama Is Falling Short
(Bloomberg) -- One of the most bearish economists covering Panama is none other than the nation's new finance minister, who took office two weeks ago.
The economy will grow a little less than 4% this year, according to Finance Minister Hector Alexander, a former student of Nobel Laureate Milton Friedman at the the University of Chicago. That compares to an expansion of 3.7% in 2018, the weakest pace since the global financial crisis a decade ago.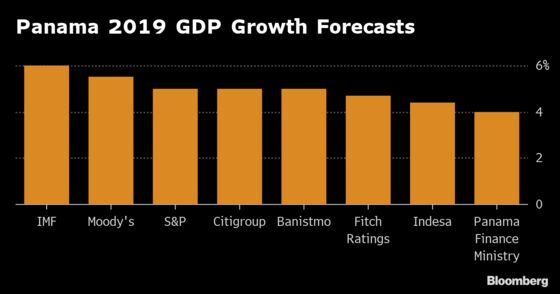 While many governments in the region highball their growth forecasts, Alexander's is lower than that of the three main ratings agencies, the International Monetary Fund and all analysts surveyed by Bloomberg, whose median forecast is for an expansion of 4.9%.
"We're falling short of where we could be in growth and development, and this is our big challenge," Alexander, 76, said in an interview in his Panama City office. "We think we can turn it around."
The nation's China-like growth rates over the last decade have given it the highest living standards in Latin America, and the glass and steel of Panama City's skyline now looks more like Miami than a Central American capital. The IMF warned in January that Panama's "stellar" growth will be harder to sustain as it gets closer to being a high-income country.
Unemployment has risen as activity slows in construction and agriculture, Alexander said. The strength of the U.S. dollar, Panama's national currency, has made it more expensive, dissuading some travelers from visiting, he added.
Even if Alexander's relatively gloomy forecast proves correct, Panama's economy would still outpace that of every economy in the Americas except the Dominican Republic, according to analysts surveyed by Bloomberg.
The new government has pledged to provide preferential rates for home loans for as much as $180,000 in a bid to revive the flagging construction sector, which has been one of the economy's main growth engines in recent years.
President Laurentino Cortizo, from the center-left Revolutionary Democratic Party, was sworn in for a five-year term this month. He pledged to overhaul the way public contracts are awarded, following a series of bribery scandals, and revive the $60 billion economy.
After taking office, he described the state of public finances as "worrying." A task force is studying how much is owed to government suppliers and how big the budget deficit will be this year.
Alexander said results should be in soon, at which point the government will know whether or not they will be able to keep the fiscal deficit below 2% of GDP, which is the upper limit allowed by the fiscal responsibility law.
"We are anticipating an imbalance, and we'll have to see how we balance it out," he said.
Panama's first copper mine, operated by Canada's First Quantum, will support the economy in the second half of the year as it ramps up production and starts exports, Alexander said. The mine will generate an annual $2 billion in export revenue once it is fully operational, according to the mine's website. Paying off arrears to suppliers will also provide the economy with a lift, he said.
The new cabinet authorized the economy and Finance Ministry to issue as much as $2.5 billion in debt. Alexander said he'll seek to issue part of the nation's debt in the U.S. and Europe and $1 billion will be used to pay a bond maturing in January 2020.
Alexander served as minister of finance and treasury from 1985-88 and minister of economy and finance from 2007-2009. He earned a masters in economics from the University of Chicago in the 1970s and was a member of the team that negotiated the Torrijos-Carter Treaties, which granted Panama control of the canal in 2000.