Fight Between Ruling Italian Populists Escalates Over Rail Link
(Bloomberg) -- Italy's populist coalition is often at odds but the dispute over a train link with France is really putting it to the test with Deputy Premier Matteo Salvini threatening to end the League's alliance with Five Star if it keeps blocking the project.
Salvini, of the anti-immigration League, is a regular on Italian evening television and he intimated on Thursday that he could plug the plug "if there are too many 'noes.'" A day later, he toned down the rhetoric by saying he was confident common sense would prevail over the contested Alpine tunnel.
Luigi Di Maio, Five Star leader and fellow deputy premier, accused Salvini of "forcing a breach of the government contract and threatening to make the government collapse," in a statement sent by his office. "He should take responsibility for this before millions of Italians. I consider this behavior irresponsible."
Di Maio highlighted two key social measures that would be in jeopardy if the government fell apart -- increased welfare benefits and a lower retirement age.
The rail link is just one of many issues that have seen the two parties frequently at loggerheads since the administration was sworn in on June 1. They've also clashed over tax policy, immigration and infrastructure.
Prime Minister Giuseppe Conte, a de facto mediator between Salvini and Di Maio, called Thursday for talks with France and the European Union on the project. While the League favors the plan as a boost for business in its northern stronghold, Five Star opposes it on environmental grounds. France reiterated the project should go ahead as planned.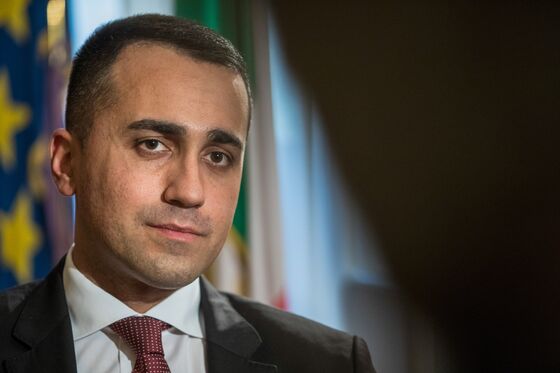 Salvini also played down the prospects of leading another government with his official center-right allies. He brushed off Di Maio's accusation. "Me, irresponsible? No, I'm coherent and then Luigi was talking to his people," Salvini said, adding that what he cares about is that tenders to pursue work on the rail link are approved when the board of Telt, the French-Italian consortium behind the project, meets Monday.
Five Star however has said it wants to block the tenders. Builders stand to miss out on more than 2 billion euros ($2.3 billion) of orders. The indecision leaves Telt hanging, along with, construction companies including Spie Batignolles SA and CMC di Ravenna SC.
Italian bonds were unfazed Friday, still propped up by European Central Bank news, with yields on 10-year government bonds up 5 basis points to 2.52 percent, trimming a 21 basis point decline this week.