Fifty Years in Idle Time Seen for Trucks at Two Major U.S. Ports
(Bloomberg) -- Trucking trips originating around the U.S.'s busiest ports are showing massive increases in idle time, another sign of the supply-chain logjams plaguing American transport hubs. 
From the start of 2018 through October this year, idle time per vehicle has increased by 50%, according to data compiled by Lytx Inc., a San Diego, California-based company whose telematics that monitor vehicles are used by 1.4 million drivers worldwide.
So far this year, there is more than a day's worth of idle time per vehicle, up from 17 hours per vehicle in 2019 and 21.5 hours in 2020. The data found that 50 years in idle time has been wasted this year.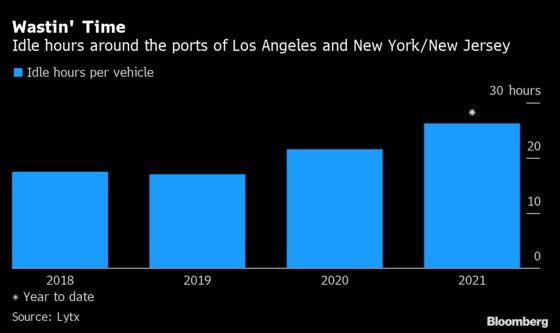 Overwhelming volume generated by pandemic-induced consumer demand is swamping a system that was already creaking under the weight of high demand, low investment, labor shortages and regulatory battles.
Facing high import volumes, the ports of Los Angeles and neighboring Long Beach are ramping up to 24/7 operations to help ease the congestion that experts say could continue well into next year. 
That bears out in Lytx's numbers: In 2021, through October, 788,455 vehicle trips have been originated in the areas around the port of Los Angeles and the port of New York/New Jersey compared with 554,089 last year. 
The data "puts into perspective how busy it's gotten around the ports this year as it's already the top in the volume categories and there's still two months left," said Kyle Warlick, a client intelligence analyst at Lytx.  
Lytx's database more than 150 billion miles of commercial driving data and captures more than 200,000 new driving events daily.