Fiat Plans to Build New Jeep at Idled Detroit Engine Plant
(Bloomberg) -- Fiat Chrysler Automobiles NV is planning to build a new Jeep at an idled engine plant in Detroit, beefing up capacity to build higher-margin vehicles and meet surging U.S. demand for sport utility vehicles.
The factory will assemble a new three-row version of the Grand Cherokee SUV, according to a person familiar with the matter, who asked not to be identified ahead of an official announcement. The Detroit News reported earlier Thursday that the company could add as many as 400 jobs by reopening its Mack Avenue Engine II plant, which has been idle since 2012.
The planned revival comes on the heels of General Motors Co.'s announcement last week that it will cut more than 14,000 jobs and close five North American factories next year. GM's moves drew fierce blowback from Washington, including President Donald Trump. GM Chief Executive Officer Mary Barra has been meeting this week with lawmakers from states hit by the restructuring.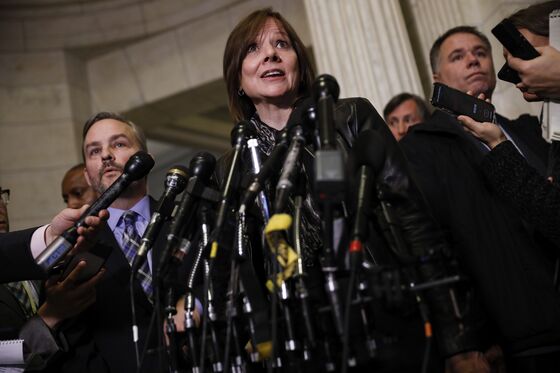 Fiat Chrysler got a "head start" on GM and others in pivoting to produce more trucks and SUVs, said Alan Baum, an independent auto analyst in West Bloomfield, Michigan. "This is completely in line with the long-term story that GM still has too many plants making cars."
Fiat Chrysler was the first Detroit automaker to significantly cull its car lineup: It decided in 2016 to end production of the Dodge Dart and Chrysler 200 sedans. Ford announced earlier this year that the Mustang will eventually be its only passenger car in North America. GM said last week that it will discontinue models including the Buick LaCrosse, Chevrolet Impala and Cadillac CT6.
Now that pickups and SUVs make up about 70 percent of total U.S. vehicle sales, Fiat Chrysler Chief Executive Officer Mike Manley is taking advantage. In addition to the new three-row Grand Cherokee to be made at the Mack Avenue plant, the company is bringing back the pricier Jeep Wagoneer and three-row Grand Wagoneer, which is slated to be produced at its Warren, Michigan, plant north of Detroit.
Manley, who headed the Jeep brand before becoming CE0 of the company this summer, aims to boost profit even in a sluggish U.S. market by tapping into America's SUV craze. North America accounted for 97 percent of Fiat Chrysler's 2 billion euros ($2.3 billion) in adjusted earnings before interest and taxes in the third quarter.
"Automakers have continually focused on the upper-end buyer -- that's where the profit is," Baum said. "And to the extent there's a decline in the market, it doesn't hit that segment of the market as strongly."
Fiat Chrysler won plaudits from Trump in January 2017 when it announced a $1 billion investment to build three new Jeeps and a Ram pickup now produced in Mexico. A year later, the Italian-American company said it would create 2,500 new jobs at its Warren plant to make heavy-duty Ram trucks.
Manley has since said he's reconsidering one aspect of this plan. Rather than stop heavy-duty Ram output in Saltillo, Mexico, Fiat Chrysler may keep producing them there, in addition to starting new assembly of them in Warren.
While Fiat Chrysler has largely avoided criticism for its production in Mexico, GM's expansion in the country has come under fire following its announcement last week.
U.S. Representative Debbie Dingell, a Democrat from Michigan who met with Barra on Thursday, said the company's overcapacity is a result of investment decisions made over the last several years. She rebuked GM for building the revived Chevy Blazer SUV in Mexico.
Chrysler added the Mack Engine II plant next to an existing engine facility in 2000, when it began building a new V-6 powerplant. The Detroit News reported in July 2012 that 182 workers were employed there when it closed.