Fiat Cuts 1,500 Jobs at Canada Minivan Plant as Demand Weakens
(Bloomberg) -- Fiat Chrysler Automobiles NV is cutting production at its Canadian minivan plant, eliminating about 1,500 jobs as it grapples with flattening demand for new vehicles.
After almost a year of extensions, the Italian-American automaker said it is canceling the third shift at its assembly plant in Windsor, Ontario, beginning June 29. The company also is phasing out the Dodge Grand Caravan, output of which will cease at the end of May. The plant will continue to build the Chrysler Pacifica and Voyager minivans.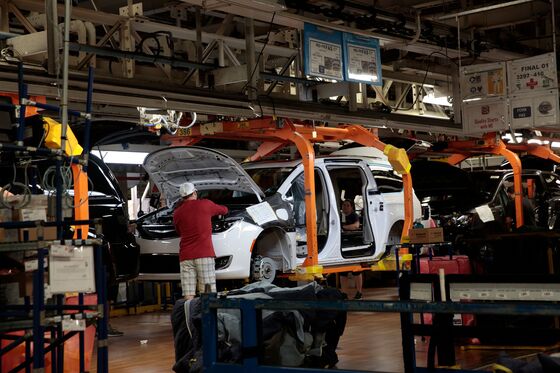 "This decision comes as the company works to align volumes with demand," Fiat Chrysler spokeswoman Jodi Tinson said in an emailed statement. The company "will make every effort to place indefinitely laid-off hourly employees in open full-time positions as they become available based on seniority."
Fiat Chrysler is also offering retirement packages to eligible workers, she said.
The automaker first announced in March 2019 it would eliminate the shift at the end of September. Since then, it's extended the deadline twice after negotiations with Unifor, Canada's automotive labor union.
"We will not stop. We are going to do every damn thing we can to get everyone back to work!" Unifor Local 444 President Dave Cassidy said in a tweet.
Fiat Chrysler has taken a series of actions to trim production across North America this year. It has twice idled the assembly lines at its Jeep Cherokee plant in Belvidere, Illinois, after cutting a production shift at the plant in May. It also idled the Windsor plant in January.