Fiat Chrysler's Ram Pulls Another Upset Topping GM's Silverado
(Bloomberg) -- In the hotly contested race for big pickup profits, Fiat Chrysler Automobiles NV has pulled an upset the last two months as its freshly redesigned Ram truck outsold General Motors Co.'s Chevrolet Silverado, according to sales data obtained by Bloomberg News.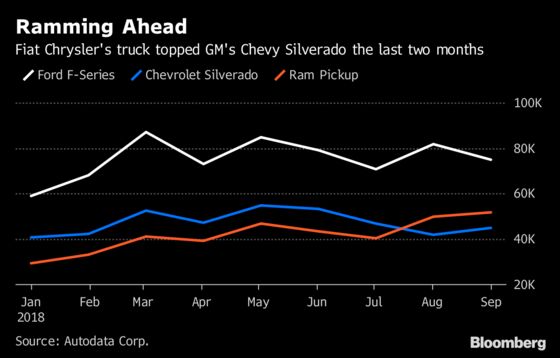 Ram was second only to Ford Motor Co.'s F-Series, the top-selling vehicle line in America, thanks to a mix of new styling and generous incentives as the Italian-American automaker continues to produce and sell both new and old versions of its pickup.
GM has dialed down the discounts to preserve inventory as assembly of the redesigned Silverado gets rolling. F-Series sales fell 8.8 percent last month, as it deals with the new competitors and suffered a hangover from a big month last year due to replacement demand following Hurricane Harvey.