Fiat Chrysler's New CEO Keeps Jeep While Forming His Top Team
(Bloomberg) -- Mike Manley, the Jeep boss who was thrust into the job of chief executive of Fiat Chrysler Automobiles NV this summer after the sudden death of ex-CEO Sergio Marchionne, began putting his own stamp on the automaker with a sweeping management shakeup.
Manley, who has been juggling multiple roles since taking over as CEO July 21, named Pietro Gorlier, chief operating officer of Fiat Chrysler's components business, as the new head of Europe, replacing Alfredo Altavilla, who left the company after missing out on the top job. Manley didn't put anyone in his former role as global head of Jeep and Ram. Alfa Romeo chief Tim Kuniskis will lead the Jeep brand in North America, while Reid Bigland takes over as head of RAM.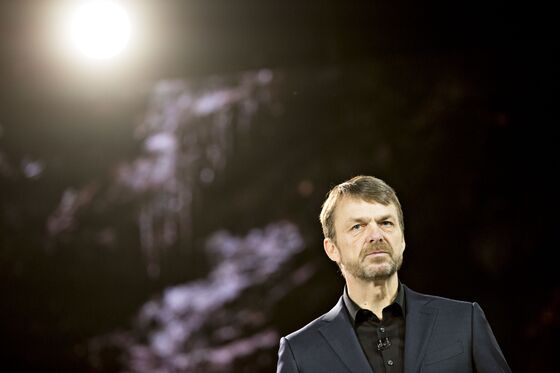 The moves are part of a broader reorganization by the 54-year-old Briton as he attempts to steer the world's seventh-largest automaker through global trade tensions and technological disruption, and make good on its pledge to double profit in the next five years. Manley had a rocky start to his tenure as CEO -- just hours after the death of Marchionne, his former boss and mentor, he had to host his first earnings call with analysts, in which he cut Fiat Chrysler's financial targets, triggering a 12 percent rout in the stock.
By picking Kuniskis for just Jeep's North America unit, the CEO is keeping oversight of the most lucrative unit of the group for himself. Fiat Chrysler's five-year plan, unveiled in Italy in June, aims to double Jeep sales worldwide to as many as 3.3 million units by 2022. While the redesigned Wrangler and Jeep Cherokee have fueled a 21 percent gain in U.S. Jeep deliveries through August, the brand has struggled to find its footing in China, the world's biggest car market.
With the announcement of Tim Kuniskis for Jeep North America "we have all of our regions covered by Jeep Brand executives who oversee day to day operations and Jeep product strategy in each region. The CEO and the GEC will continue to ensure alignment of our region and brand objectives to the overall FCA business plan targets," according to a Fiat spokesman. 
Gorlier, a native of Turin, Italy, was one of Marchionne's closest aides. He joined Fiat in 1989 as a market analyst for its Iveco truck maker and moved to the parent company in 2006. When Fiat agreed to take management control of Chrysler in 2009, Gorlier was one of the few executives who moved from Turin to Detroit. In 2015 he was named head of components maker Magneti Marelli and led its turnaround as Fiat was preparing to spin off the unit. Bloomberg News first reported Gorlier's appointment was near last week.
As Europe head, he will have to maintain profit in a region that typically underperforms others because of price competition and lower margins. Gorlier will face a number of challenges, which include completing the transformation from mass-car production to more profitable Alfa Romeos and Maseratis, and moving from diesel to hybrid and electric cars, including at two engine plants in Italy.
Gorlier will be replaced by an internal manager at Magneti Marelli, Ermanno Ferrari, the head of its lighting division. Fiat is evaluating bids for the unit after rejecting an initial offer by KKR's Calsonic Kansei, people familiar with the matter said Sept. 16.
Chief Technology Officer Harald Wester, another company veteran, was given back duties as head of Maserati as the Italian brand seeks to boost profit and margins with its sister brand, Alfa Romeo.