Fiat Chrysler Relies on Record U.S Profit as Asia Slumps
(Bloomberg) -- Ram trucks and Jeep SUVs carried the load for Fiat Chrysler Automobiles NV in the third quarter, as the automaker posted the highest profit margins in North America since its formation in 2014, while Europe and Asia lost money.
The strength in North America, bolstered by the hot-selling new Ram 1500 and Jeep Wrangler, underscores the automaker's growing reliance on the U.S. for profit. The Nafta region accounted for 97 percent of Fiat Chrysler's 2 billion euros ($2.3 billion) in adjusted earnings before interest and taxes during the period. That partially offset the drag of new emissions-testing rules in Europe and a trade war-related slowdown in China.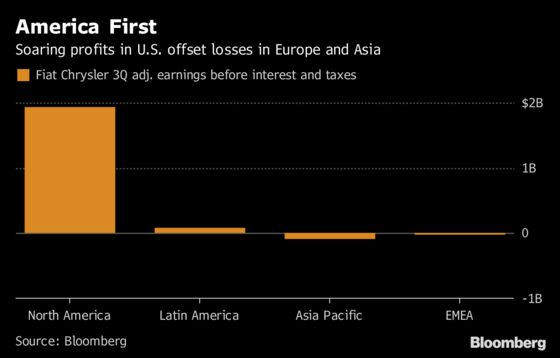 The uneven performance highlighted the challenges facing Chief Executive Officer Mike Manley outside the U.S. and overshadowed what should have been triumphant developments for company whose two predecessors narrowly escaped oblivion. The automaker announced a 2 billion-euro special dividend following the sale of its Magneti Marelli components unit and plans for an ongoing payout starting next spring. Fiat Chrysler's U.S.-traded shares fell as much as 3.8 percent in New York.
"We had strong operating performance in the quarter," Manley said on a conference call. "It could be better and will be better going forward, when we take actions in terms of region and the Maserati brand."
The luxury Maserati unit, which gets 50 percent of its profit from China, saw slumping sales in the country for a third consecutive quarter.
Strength in North America, the shareholder distributions, reaffirmed operating guidance and a diesel charge that removes uncertainty should outweigh a weaker-than-expected outlook for cash flow, analysts led by Arndt Ellinghorst at Evercore ISI said in a note.
"On balance, we believe today's release should be taken positively," the analysts said.
Fiat took advantage of a pending windfall from the sale of Marelli to tie up costly loose ends -- it disclosed a 700 million euro charge from diesel litigation in the U.S. and accelerated payments to its pension fund. Net income fell 38 percent.
In terms of regions, Fiat Chrysler is now a tale of two companies: profit coming from the Americas, including a 41 percent advance in adjusted Ebit in Latin America, but losses in both Asia and in Europe, where Fiat was founded in Turin, Italy, in 1899.
Stiffer competition and tax changes in China forced Manley to lower guidance for annual revenue and profit in July, just hours after the death of his mentor and former CEO Sergio Marchionne.
Marchionne said in April he was aiming to surpass Ford Motor Co. and General Motors Co.'s North American profit margins by the fourth quarter of 2018. Fiat is poised to succeed a quarter early, after posting a record 10.2 percent adjusted Ebit margin in the region, beating Ford's 8.8 percent result. GM, which reports on Wednesday, is expected to come in at 9.3 percent, according to Evercore ISI.
Jeep brand sales in the U.S. rose 20 percent through September to 746,194 vehicles, led by the Wrangler. Manley said at the company's capital markets day in June that Jeep will introduce a new mid-size pickup to further juice profit. Sales of the Ram 1500 have gained steam after a bumpy rollout earlier in the year: U.S. deliveries jumped 10 percent in September.
Fiat Chrysler's sales in Asia tumbled 26 percent, and operations in the region fell to a 96 million-euro loss as Manley works on repositioning the Jeep brand in China while battling competition from domestic brands and a broader slowdown in auto sales. The Jeep Grand Commander, built specifically for China, has struggled and dealers have been forced to offer discounts.
Fiat Chrysler's goal of doubling profit over the next five years rests squarely on Jeep's ability to expand in the world's largest automotive market. Manley, who is also trying to strengthen the dealer network there, said he expects to start seeing results by the second quarter of next year.
Latin America was the only other bright spot, where Brazilians have been snapping up enough Jeep Compass SUVs to offset a downturn in Argentina. Ebit in the region jumped 41 percent. Analysts expect Latin America's largest economy to grow with the presidential election of conservative lawmaker Jair Bolsonaro, who has pledged to rein in the deficit and boost economic growth.
Fiat Chrysler confirmed its forecast of as much as 118 billion euros in revenue this year and as much as 8 billion euros in adjusted earnings before interest and taxes. The diesel-litigation charge ate into cash reserves. The company now expects to end the year with 1.5 to 2 billion euros in net industrial cash, which excludes financial debt. That's down from 3 billion euros previously.