Fiat Chrysler Carries Rare U.S. Auto Sales Momentum Into 2019
(Bloomberg) -- The mishmash of U.S. auto sales results in December -- declines at Ford and Toyota with gains at Fiat Chrysler, Nissan and Honda -- was a fitting cap to a year in which the industry did a valiant job of treading water.
Ford estimates 2018 industry light-vehicle sales rose to about 17.3 million, from 2017's 17.2 million. But it may be the last hurrah for a while: Most analysts expect that higher interest rates and record-high prices will make affordability an issue for some consumers and contribute to a market contraction in 2019.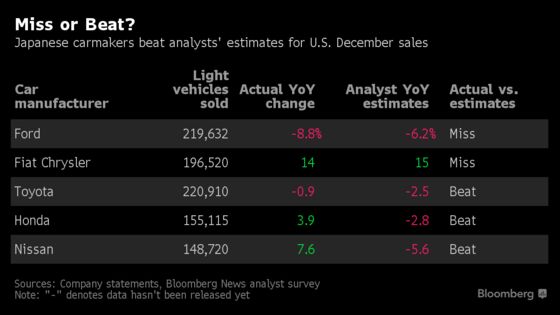 2018 was the year of the SUV and pickup, with light trucks surging to about 70 percent of the U.S. sales mix. That's an unprecedented level that likely has staying power, with automakers General Motors and Ford shedding many sedans from their lineups.
Fiat Chrysler and its trucks are carrying rare momentum among the big automakers into 2019, with a blowout fourth-quarter sales surge of 28 percent for the Ram pickup. The model line pulled ahead of GM's Chevrolet Silverado, the longtime No. 2 in the segment, during the last three months of the year.
Rental-car companies and other fleet customers are becoming the zoos where Americans go to visit an endangered species: the traditional car. Even top sedans like the Toyota Camry and Nissan Altima struggled in 2018, and retail demand was worse than what showed up in companies' total sales reports.
Investors, get ready to know less: Ford announced it's going to follow GM in providing sales data on a quarterly basis, abandoning the monthly reports that have been the norm for decades.
GM paired its sales-day news with a management shuffle. It named Mark Reuss president of the company, taking over a position vacated when Dan Ammann became chief executive officer of Cruise, the automaker's self-driving unit, at the start of the year.