Automakers Are Raking In Cash Even as U.S. Market Slows
(Bloomberg) -- It remains to be seen whether U.S. auto sales ended October up or down through the first 10 months of the year. But this much is clear: Carmakers are raking in the dough even as deliveries for most are in decline.
Most major automakers beat estimates, with Fiat Chrysler posting an even bigger jump than expected and Toyota reporting a surprise gain. Both did so on the strength of trucks and sport utility vehicles such as the Ram and Tacoma pickups and Compass and Highlander SUVs.
Strong light truck and crummy sedan demand has been an ongoing theme for months. This phenomenon has led total sales to more or less tread water, but has been a boon for revenue and profitability -- just ask top U.S. automaker General Motors.
Ford's industry-leading F-Series line was an exception, with sales falling 7.3 percent from a year ago. But the automaker blamed this mostly on lower deliveries to fleet customers and noted customers are paying top dollar -- more than $47,300 per pickup.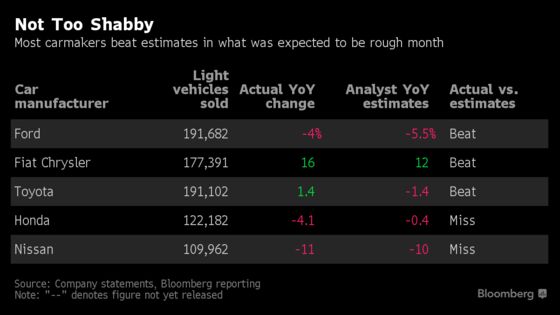 Fiat Chrysler climbed as much as 2.9 percent. Perhaps troubled by the F-Series slip up, Ford fell as much as 2.5 percent in New York trading.
Ford ascended to at least No. 2 in the market in October, outselling both Toyota and Fiat Chrysler. GM no longer reports sales on a monthly basis. This was a nice bounce back for the Blue Oval after suffering the indignity of slipping to fourth place in the month of September.