Fevertree Stumbles as Tonic Sales Weaken in U.S., U.K. Markets
Fevertree Drinks Plc lost a quarter of its value in a record share-price collapse after saying that earnings declined last year, accelerating a downward spiral for the once high-flying cocktail beverage company.
The maker of Mediterranean tonic and Madagascan cola mixers blamed weak holiday sales in the U.K. for a 5% decline in profit, its second such warning in three months. Chief Executive Officer Tim Warrillow said the company will cut the price of its products in the U.S. to drum up flagging demand.
The stumble in the U.S., where growth is set to slow to about 10% from 33% last year, casts further doubt on prospects for one of Britain's most prominent consumer-goods startups, which displaced the likes of Schweppes over the past decade with lighter tonics flavored with cucumber and clementine to accompany the rise of upscale, small-batch gins. Recently, the novelty has waned as small niche players like Double-Dutch to soda giants like Coca-Cola Co. vie for a share of the high-end cocktail business.
Expansion outside of the U.K. is crucial because the country that still generates over half of the group's revenue. Yet the proportion of revenue Fevertree gets from the U.S. has been shrinking each year since 2014.
Three years ago, the company hired Charles Gibb, the former chief executive officer of LVMH-owned Belvedere vodka, to spearhead its North American division. However, Fevertree has been held back in that market by the popularity of dark spirits such as rum and the absence of a gin boom comparable to that in Europe.
The revised U.S. guidance "takes away a key bull case for the stock," wrote Edward Mundy, an analyst at Jefferies.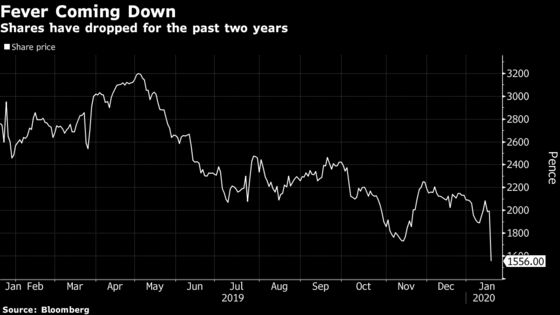 Once an investor darling that repeatedly outperformed expectations, Fevertree shares have lost more than half of their market value since peaking in 2018, leaving the company worth 1.8 billion pounds ($2.3 billion). The U.K. will remain difficult in the first half but will return to growth during the year, Fevertree forecast.
The stock fell as much as 24% in London Monday.
"The wider retail environment in the U.K. experienced a challenging Christmas with the mixer category not immune from the weak consumer confidence and corresponding slowdown in spending," the company said.
Total sales rose about 10% for the year. That's a quarter of the rate in 2018. The company said it will report full results March 24.