Fevertree Loses Gas, Halting Tonic Maker's Meteoric Stock Gain
(Bloomberg) -- Market darling Fevertree Drinks Plc, whose shares have soared more than 2,000 percent since the high-end tonic maker went public four years ago, is rapidly losing fizz.
The stock has fallen 22 percent in the past five trading sessions, headed for its steepest weekly decline on record. The plunge most likely reflects what Berenberg analyst Ned Hammond says has been a general shift away from highly valued growth stocks. Similarly richly rated companies, such as U.K. online retailers Asos Plc, Boohoo Group Plc and Ocado Group Plc, have also had a rough few days as equity markets have slid amid concerns about an economic slowdown and rising bond yields.
"We are merely seeing the usual reaction when such a broad selloff occurs, namely those stocks trading on rather optimistic forecasts suffer most heavily," IG Group Holdings Plc chief market analyst Chris Beauchamp said in written comments. "Also, with a lot of these names volume is quite low relative to the top end of the index, so the moves are further exaggerated."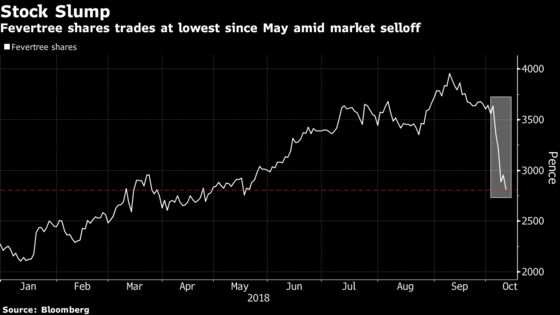 Even after the recent selloff, Fevertree shares trade at about 49 times expected earnings, more than double the average price-to-earnings ratio for stocks in the FTSE AIM 100 Index, according to data compiled by Bloomberg.
Interest from short sellers, seeking to profit from a stock's decline, has crept up to 0.45% of shares outstanding, compared with 0.06 percent at the end of last month, according to the latest data compiled by IHS Markit Ltd.
The stock's recent drop hasn't been stemmed by bullish analysts. Jefferies this week called Fevertree a rare buying opportunity, while Berenberg upgraded its price target last week. None of the six analysts tracked by Bloomberg have a sell rating or equivalent.
Recent Nielsen data suggest Fevertree's sales growth has slowed in the U.K., which seems attributable to "a degree of normalization" following higher demand during the warm summer weather, Jefferies analyst Ed Mundy wrote in an Oct. 8 note. It should also be seen in the context of overall carbonated soft drinks category sales growth slowing by two-thirds in the same period, compared with the slowdown of around half for Fevertree, he said.
London-based Fevertree, led by co-founder Tim Warrillow, makes spirits mixers ranging from tonic water to ginger beer, and has seen its market value rise to about 3.3 billion pounds ($4.3 billion) from about 154 million pounds in 2014. The stock was down 4.1 percent at 2,828 pence as of 11 a.m. on Wednesday, heading for its lowest close since May.