Fevertree's 2018 Stock Surge Has Lost Its Fizz
(Bloomberg) -- As recently as September, Fevertree Drinks Plc was the apple of investors' eyes. Shares in the U.K. premium tonic maker were up more than 70 percent on the year and on course to repeat their feat of almost doubling in both 2016 and 2017.
Fast-forward less than three months and the situation looks very different. Concern at Fevertree's spiraling valuation has sent it into a tailspin at a time when growth stocks generally have been in the eye of a market storm. Wednesday's drop of as much as 6.7 percent means it has fallen into negative territory for the year. But even so, the forward price-earnings multiple remains an eye-popping 46 times, according to data compiled by Bloomberg.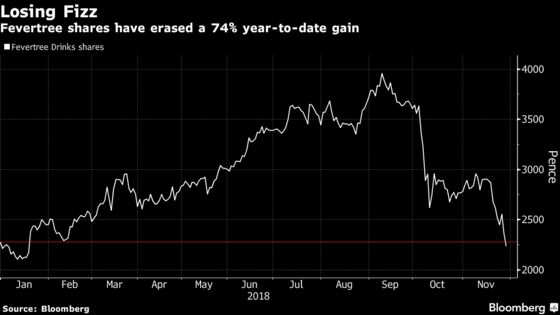 Also spooking investors this month is not what the company is saying, but rather what it isn't, according to Berenberg analyst Ned Hammond. Fevertree, which went public in 2014, has provided a November trading update in each of the past three years to indicate that full-year results would be "materially" ahead of market expectations.
Still, Hammond says good news will come eventually, noting that all of Fevertree's January updates have said results for the year just ended would beat expectations.
"We think there will still be upgrades, it is just a case of timing," he wrote by email.