Ferrari Targets Hermes-Like Profit Margins With Hybrid Supercars
(Bloomberg) -- Ferrari NV's new CEO is aiming to put Apple Inc. in the rear-view mirror as the supercar maker chases the even loftier profit margins of luxury-goods maker Hermès International.
The five-year plan unveiled Tuesday by Chief Executive Officer Louis Camilleri targets adjusted earnings before interest, taxes, depreciation and amortization totaling more than 38 percent of revenue by 2022. That would equal the Ebitda margin delivered by Hermes, the French fashion stalwart, last year, based on Bloomberg data. In 2017, Ferrari reached 30 -- just behind the U.S. iPhone maker's 31, and well ahead of luxury carmakers like BMW AG.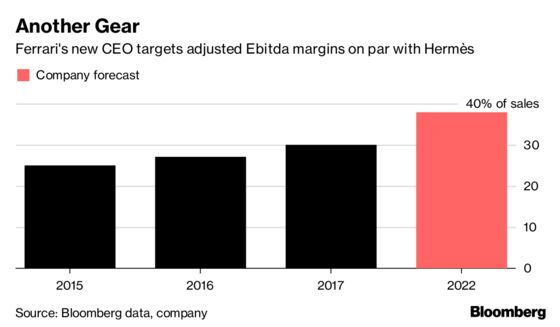 Former CEO Sergio Marchionne long touted Ferrari as a luxury brand worthy of comparisons with -- and valuations of -- best-in-class players like Hermès. Camilleri, a former tobacco company executive and Ferrari board member, stepped in as CEO just days before his predecessor's sudden death in July, and quickly shook investors by calling Marchionne's plan to double profit "aspirational."
On Tuesday, Ferrari shares initially fell again Camilleri, 63, eased back from some of Marchionne's most challenging goals. But the stock rebounded once the new CEO made it clear that he intended to keep expanding the Ferrari brand -- and profit margins -- with a suite of highly lucrative special editions, new models outside sports cars and hybrid supercars. Ferrari will start selling a planned SUV called the Purosangue by 2022, the company said -- just at the end of the plan.
"Profit growth will be delivered with price, mix and new higher end products," Max Warburton, an analyst at Sanford C. Bernstein & Co., said in a note. "If Ferrari can really do these numbers without the SUV and China, it will be a higher quality route to new profit records."
Camilleri also increased Ferrari's dividend-payout ratio and announced a 1.5 billion-euro share buyback plan. The profit goal is "ambitious but doable," Camilleri said.