Rank-and-File FEMA Workers Rally Around Administrator Under Ethics Probe
(Bloomberg) -- Federal Emergency Management Agency workers are backing their embattled chief, who is the subject of an ethics probe as he coordinates the government response to Hurricane Florence.
On Monday, House Oversight and Government Reform Committee Chairman Trey Gowdy of South Carolina sent Brock Long a letter demanding documents related to his use of government vehicles to commute to his North Carolina home.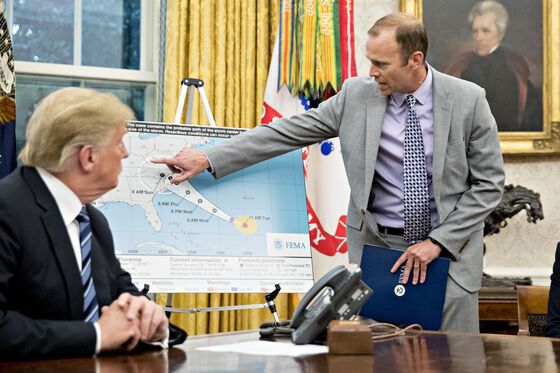 Gowdy asked for documents showing each time Brock used a government car and which staff members joined him. The Department of Homeland Security's Inspector General has been investigating Long's use of those vehicles.
Long has the support of FEMA's rank-and-file staff, according to Steve Reaves, president of the American Federation of Government Employees Local 4060, which represents about 5,000 dues-paying FEMA workers.
"He's definitely won my members over. I'm in support of Brock too. He's a decent guy," Reaves said by phone. "If there is something found to be wrong there, it wasn't intentional. It was a misinterpretation, or somebody counseled him incorrectly."
On social media, FEMA employees rallied around their boss. Richard Krikava, who according to his LinkedIn page has worked at the agency for nine years, posted a photo of himself with Long under the hashtag "#teambrock." Other current employees posted messages on Facebook stating their support, according to screenshots shared with Bloomberg.
It's unclear based on the information available whether Long's behavior violates federal ethics guidelines, according to Lisa Gilbert, vice president for legislative affairs at Public Citizen.
"There certainly are instances where you can imagine the need for using government vehicles" for personal purposes, Gilbert said.
But she said that a string of apparent abuses by senior administration officials has left the public unusually sensitive to even perceived violations of the rules. "There's much more awareness of travel scandal right now," Gilbert said.
She cited the examples of former Health and Human Services Secretary Tom Price, who was forced to resign in part over taking rides on private jets, and former Environmental Protection Agency Administrator Scott Pruitt, who stepped down after a series of damaging revelations about his spending, including first-class flights with a retinue of bodyguards.
"I am not focused on this investigation," Long said in a statement released by his office. "I am fully focused on those impacted by Hurricane Florence."
The Department of Homeland Security declined to provide a copy of any ethics policy document explaining the appropriate use of government vehicles, or even to say whether such a document exists.
"At this time, we are fully focused on preparing for, responding to, and recovering from Hurricane Florence and the storms in the Pacific," Press Secretary Tyler Houlton said in a statement. "The secretary is confident in the leadership at FEMA and their proven disaster management ability."
Homeland Security referred questions to the Inspector General, which didn't return phone calls. The Justice Department didn't respond to a request for comment.
Scott Amey, general counsel at the Project on Government Oversight, said that while he hadn't heard of an official losing his job over private use of a government car, federal law appeared to allow for that possibility. And he said it was appropriate for the inspector general to look into what happened.
"There's enough of a gray area here that we should have an investigation," Amey said.
The investigation into Long has been referred to federal prosecutors for possible criminal charges, the Wall Street Journal reported.
Long was confirmed in June 2017 to head FEMA, the nation's chief agency for disaster response. The agency was criticized for its response to Hurricane Maria in Puerto Rico last year, which led to an estimated 3,000 deaths. President Donald Trump has repeatedly sought to discredit that estimate, even as key Republican leaders have said they were confident it was accurate.
In another controversy, an internal investigation concluded earlier this year that FEMA's chief human resources officer, Corey Coleman, "engaged in serious misconduct and mismanagement," including sexual relationships with subordinates. Coleman resigned in June.
On Sunday, Long defended himself against the latest travel allegations, saying that "maybe some policies were not developed around these vehicles."
Secretary of Homeland Security Kirstjen Nielsen, who oversees FEMA, has not asked him to resign, Long said during an interview on "Meet the Press."