FedEx Plunges Most Since 2015 as Forecast Sows Doubts on Economy 
(Bloomberg) -- FedEx Corp. shares plunged on Wednesday, after its "jarring" cut to annual forecasts and bleak commentary about European economy and global trade alarmed the market.
FedEx plunged as much as 10 percent as of 10 a.m. in New York, dropping to its lowest intraday price in two years, while shares of peer United Parcel Service Inc. fell more than 4 percent.
FedEx slashed its outlook just three months after raising the view, reflecting an abrupt change in the company's view of the global economy amid rising trade tensions between the U.S. and China. The cuts were deeper than the Street expected, Morgan Stanley analyst Ravi Shanker wrote in a note.
The company's Express unit is likely to remain an overhang, Shanker said, as FedEx management didn't provide an outlook for fiscal 2020 or its timeline for improving the cargo airline, which has been hit by worsening economic conditions in Europe.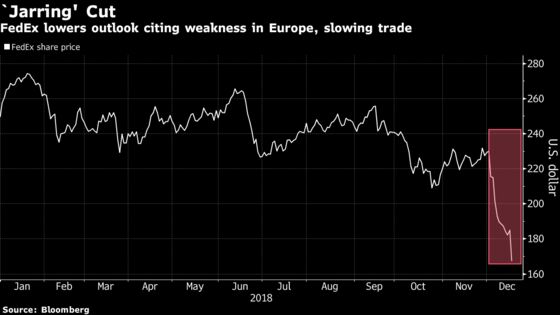 Here's a round up of analyst commentary post the results.
Goldman Sachs, Matt Reustle
"While we continue to see attractive opportunity in the long-term opportunity at FedEx, the quarterly results and updates were disappointing relative to our expectations, and we do not believe management's updated disclosure removed the overhang on the stock."
"FedEx's commentary on weakness in global trade raises concerns for our broader universe."
"Given the weakness is entirely attributed to the Express segment and references to global trade, we believe the market may differentiate U.S. focused operators (Truckers) vs those more dependent on global trade (Airfreight/Forwarders)."
Rates FedEx buy, price target $260.
Morgan Stanley, Ravi Shanker
"We recognize that global growth has slowed but we are very surprised by the magnitude of the headwind, which is what might be seen in a severe recession."
"We believe global growth concerns are also likely to get worse before they get better next year, which could mean more of a drag on FY20 EPS."
"While the TNT concerns might be FedEx-specific, we believe global macro concerns and eCommerce headwinds apply to UPS as well, where the stock has not reset as much as FDX in recent months."
Rates the stock equal-weight, price target $230.
Deutsche Bank, Amit Mehrotra
"The commentary around Europe is not very satisfying, as it likely reflects significant underperformance at TNT, on which management is still not offering necessary details."
"It's clear that expectations will come down, though likely much less than the magnitude of the recent correction."
Rates buy, price target $212 from $293.
"Geopolitical issues are weighing heavily on the company's operations, and are masking what is turning out to be another solid peak shipping season."
"Given slowing economic growth, political actions seem to be exacerbating many of these issues."
"We expect FedEx shares to come under continued pressure as investors process the disappointing 2H19 outlook, which includes an estimate for weaker than expected international operations."
Rates outperform, price target $242 from $280.
"While expectations were very low heading into the report, the implied cut to second-half guidance and thus the run-rate entering fiscal 2020 was worse than we expected."
"Longer term, we still expect FedEx's margins and returns to improve relative to UPS, so we continue to relatively prefer FedEx among the two."
Rates outperform, price target $216 from $266.