FedEx Surges After Strong Quarter Feeds a Bullish Outlook
(Bloomberg) -- FedEx Corp. jumped the most in six months after higher prices and elevated e-commerce boosted earnings, sparking expectations for accelerated growth as the economy recovers from the Covid-19 pandemic.
Surging package volumes and pricing gains offset increased labor costs and weather-related expenses in the quarter through February, the courier reported. It also provided a bullish forecast for the full fiscal year -- the first guidance it has issued since suspending its outlook 12 months ago amid uncertainty about the Covid-19 pandemic.
"We have great momentum coming out of Q3," Brie Carere, the courier's marketing chief, said on a conference call with analysts.
The shares jumped 5.9% to $278.96 at 9:40 a.m. in New York, the strongest gain on the S&P 500. The stock earlier rose 6.9%, the most intraday since Sept. 16. FedEx had climbed less than 2% this year through Thursday.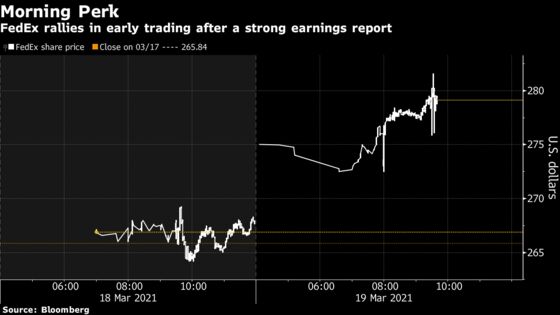 Winter storms cut operating income by $350 million after severe snowfall locked up most of the southern U.S., including FedEx's largest hub in Memphis, Tennessee, for about a week in mid-February. But record package volumes and less air-freight competition from airlines allowed the company to lift prices.
Adjusted earnings for the fiscal third quarter came to $3.47 a share, beating analysts' expectations of $3.22, FedEx said after the stock market closed Thursday.
The results show that FedEx is benefiting from a turnaround in the broader recovery as the pandemic wanes, Matt Arnold, an analyst with Edward D. Jones & Co., said in an interview. More importantly, the courier is proving to investors it can make money on residential deliveries, which rose to 70% of ground volumes from 62% a year earlier.
"They're making some good progress on finally improving profitability through a combination of getting the pricing they need as well as taking the cost per delivery lower," Arnold said.
Street Wrap: FedEx Rises as Analysts Praise Strong Results
Several analysts raised their price targets, including Patrick Tyler Brown of Raymond James. "We suspect the accelerating shift toward e-commerce continues to foster supply/demand imbalances," he wrote in a note to clients.
FedEx said e-commerce will grow faster than it projected just six months ago when the company saw U.S. domestic deliveries across the industry reaching 100 million packages a day in 2023 -- three years earlier than it had previously forecast. It now estimates hitting 101 million packages per day in 2022, with 86% of that growth from e-commerce.
Fueled by expectations for continued demand, the company issued an earnings outlook for its fiscal year ending in May of $17.60 to $18.20 a share. Analysts had expected $17.40, based on the average of estimates compiled by Bloomberg.
FedEx's ability to weather the pandemic was helped by moves it made starting in early 2019. Chief Executive Officer Fred Smith overhauled the company's ground unit to be more efficient making residential deliveries and he invested in automated sorting hubs allowing it to expand service to seven days a week from five. The company also built stand-alone facilities to handle oversize packages and took back parcels it had been handing off to the U.S. Postal Service for final delivery.
What Bloomberg Intelligence says:

"When we strip out the noise, FedEx is demonstrating the ability to create operating efficiencies and position itself for further margin expansion from a recovery in business-to-business volume and less-than-truckload demand. Moreover, a fully integrated TNT should start to put FedEx on a better competitive footing in Europe over the longer term."

-- Lee Klaskow, BI transportation analyst

Click here to read the research.
The changes helped FedEx deal with an onslaught of online shopping as virus-wary consumers shunned brick-and-mortar stores. Sales climbed 23% to $21.5 billion in the quarter, led by a 37% gain in revenue from standard ground operations to about $8 billion. Express delivery sales rose 21% to $10.8 billion.
The company anticipates rising sales and profit margins for ground, express and freight in the current quarter that ends May 31, citing the U.S. government stimulus checks as a contributor to higher demand. Commercial airlines, which also carry cargo, won't recover fully until as late as the end of 2024 and e-commerce will remain a growth engine, it predicted.
Still, Carere warned of a "potential for a short-term deceleration" for online shopping after the pandemic subsides.
High volumes have allowed FedEx and rival United Parcel Service Inc. to increase prices even as they limit capital spending. FedEx lifted its forecast for capital expenditures by $600 million to $5.7 billion for the year ending in May to boost capacity at its ground unit and to move up some aircraft payments. That's still lower than the $5.9 billion it spent last year.
Operating margins of 4.9% fell short of analyst expectations for 5.9%, but showed marked improvement over the paltry 2.8% FedEx reported a year ago as Covid-19 triggered business shutdowns.