FedEx Drops Most in 18 Months as Labor Shortage Drives Up Costs
(Bloomberg) -- FedEx Corp. slid the most in 18 months as a labor shortage that's driving up costs showed no sign of letting up. 
The $800 million of additional costs that the company grappled with in its latest quarter likely will repeat in the current one, the company said. 
At the Ground unit, which handles most of the holiday delivery surge, about 6% of daily volume is being rerouted away from sorting hubs that lack enough workers, said Brian Ossenbeck, an analyst with JPMorgan Chase & Co. 
"Management quantified the expected headwinds but did not convince the market that they were under control," Ossenbeck said in a note to clients Wednesday. "At this point, we are less confident these issues will go away quickly."
The shares dropped 7.9% to $232.15 at 12:21 p.m. in New York after tumbling as much as 9.2%, the biggest intraday decline since March of last year. FedEx had slipped 2.9% this year through Tuesday while the S&P 500 advanced 16%.
Illustrating its problems plaguing the package giant, a Ground unit sorting hub in Portland, Oregon, is only staffed at 65% because of the labor pinch, Chief Operating Officer Raj Subramaniam said on a call with analysts Tuesday evening. The company responded by shifting 25% of volume that would typically go through Portland to other facilities -- straining the network and pushing up costs to haul packages to other areas.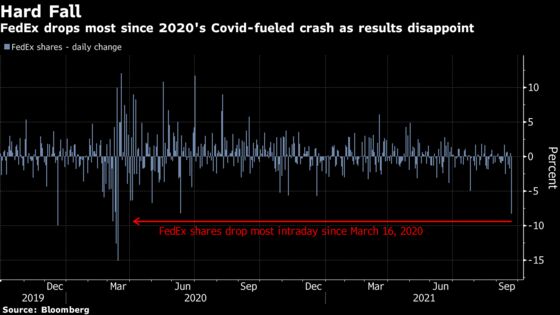 FedEx is trying to attract workers by offering higher wages, which have increased more than 25% from a year earlier at some Express unit hubs. The company also is turning away some package volume from customers to help keep service levels from deteriorating. 
FedEx's profit missed analysts' expectations, and the company cut its forecast for adjusted earnings to between $19.75 and $21 a share from the $20.50-$21.50 range projected in June. Ossenbeck, Morgan Stanley's Ravi Shanker and other analysts aren't convinced that the reduction was sufficient. 
"Now the question is: When does the market feel comfortable that they cut enough," Ossenbeck said.