Fed on Track for Faster Taper; Bullard Says Jobs 'Quite Strong'
(Bloomberg) -- Federal Reserve policy makers are likely to follow through with a faster reduction of their of asset purchases after U.S. unemployment fell sharply last month, even as payroll gains slowed.
"Except for the headline number, the report seemed quite strong across the board," said Federal Reserve Bank of St. Louis President James Bullard, who favors ending the taper process in March. "The household survey was up 1.1 million. That suggests there are probably revisions coming to the nonfarm payrolls side."
Payrolls showed a weaker-than-expected increase, climbing just 210,000 last month after an upwardly revised 546,000 gain in October. But the jobless rate dropped to 4.2% as employment rose by more than a million in the report's household survey.
Bullard saw the jobless rate falling below 4% by the first quarter of 2022.
"It looks like we will be at that level very, very soon," he said. "That's very encouraging. I think it is a very strong labor market."
Fed Chair Jerome Powell told lawmakers this week that officials should consider speeding up the taper of bond buying at their upcoming meeting Dec. 14-15 to wrap it up a few months earlier than the mid-2022 end-date that they initially planned. 
A faster taper -- which has been publicly backed by other policy makers -- would give the Federal Open Market Committee the option to raise rates earlier if needed to cool off surging inflation that Powell and colleagues have warned will persist into 2022. 
"The probability of an accelerated taper is going up," said Thomas Costerg, senior U.S. economist at Pictet Wealth Management. "The Fed can't ignore the unemployment rate falling to a mere 4.2%."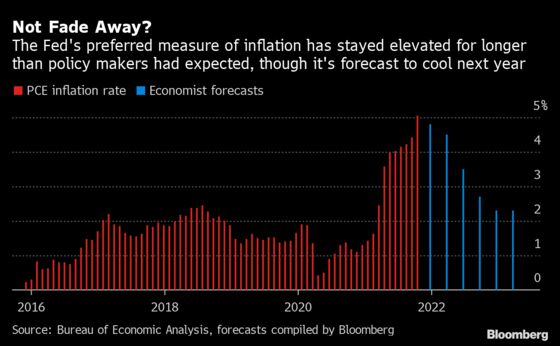 Bullard, who favors raising rates twice next year, declined to say when he wants to start hiking. But he was keen that officials have the flexibility to act sooner if inflation goes in the wrong direction.
"I think we have to be nimble," he said in response to a question about whether the March FOMC meeting should be on the table for a move. "I would very much want to think we get to live meetings very soon, in case we need them. But it is only optionality at this point."
Officials will release updated quarterly projections for the economy and interest rates at their next meeting. In September, they were evenly split over liftoff next year or in 2023.
The Fed may view the employment report as confirmation that the labor-market recovery is continuing in the fourth quarter after the delta variant caused a slowdown in growth during the previous three months. Powell this week cautioned that a new coronavirus strain was a threat to the outlook for both employment and inflation, while noting that the risks of elevated price pressures have clearly risen.
"The Fed will welcome the drop in unemployment and the jump in participation in the labor market in the household survey with open arms," said Diane Swonk, chief economist at Grant Thornton LLP. "The miss on payrolls looks like yet another undercount by the establishment survey for November and will be superseded by the surge of more than a million jobs in the household survey when the Fed decides to accelerate the tapering of asset purchases at its next meeting."