Fed's Pause Allows Emerging-Market Central Banks to Exhale
(Bloomberg) -- The Federal Reserve's shift to a prolonged pause in its interest-rate hiking cycle will lift pressure off its emerging-market peers to hike in tandem.
Central banks in Chile, Indonesia, Mexico, the Philippines, Russia, South Africa, and Thailand are among those that have raised rates in recent months, some seeking to blunt the dollar's rise against their currencies. The Fed's four rate increases in 2018 were a central reason.
"You would certainly hear a sigh of relief in a lot of central banks in emerging markets," Sameer Goel, the head of macro strategy for Asia at Deutsche Bank AG in Singapore, said in a Bloomberg TV interview with Juliette Saly.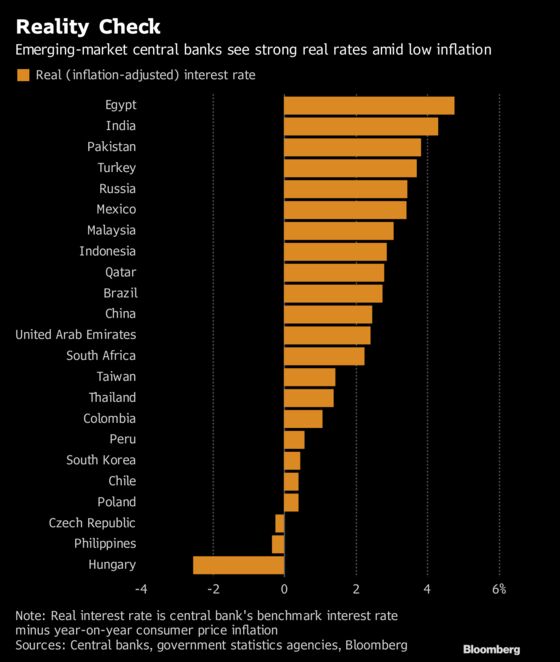 The Fed signaled on Wednesday that it's done raising interest rates for at least a while and "will be patient" regarding future hikes, while adopting a flexible stance in reducing its bond holdings. It was a remarkable shift from a tightening bias just last month.
"The more dovish Fed is actually very good news for emerging markets," Trinh Nguyen, senior economist at Natixis Asia Ltd., told Bloomberg Radio.
Asian currencies that have strengthened in recent weeks due to a fading of the dollar saw more gains after the Fed's announcement. Indonesia led emerging markets in Asia with a 1 percent rise in the rupiah from the previous day as of early afternoon. The South Korean won, Malaysian ringgit and Thai baht each gained about half a percentage point.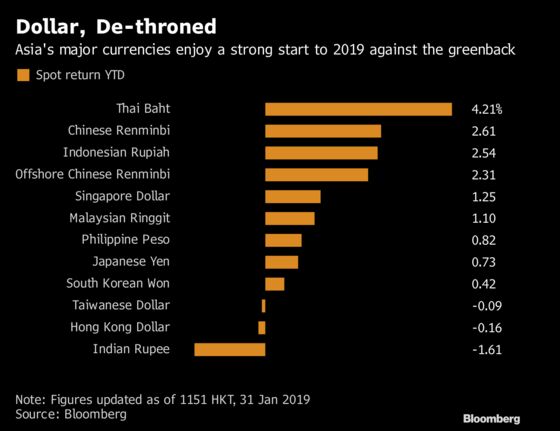 An early gauge of how policy makers will respond to the Fed will come in Asia next week when three emerging-market central banks meet to set policy.
Thailand, which raised its benchmark interest rate off a near-record low in December despite benign inflation, is staring down sluggish growth prospects. Dovish-leaning officials will likely be emboldened by the Fed to stay on hold Wednesday against calls to build more policy space.
The Philippines, which is betting big that inflation will continue to slide from surging levels and ease pressure for further rate hikes, now has Fed patience to bolster that call when they meet next Thursday. Later that day, India will judge whether weaker inflation amid a cheaper oil-import bill is enough to warrant a cut in interest rates.
To be sure, there's still a chance the Fed resumes its gradual tightening cycle in the second half of this year, especially if growth holds up and inflation accelerates, said Hak Bin Chua, an economist at Maybank Kim Eng Research Pte in Singapore.
For now, though, the Fed's pivot is a clear plus for the emerging world, said Rob Subbaraman, head of emerging markets economics and Asia ex-Japan fixed-income research at Nomura Holdings Inc.
"For emerging markets and particularly in Asia, the Fed firmly pausing is no doubt positive," he said.