Fed's Bostic Sees `Positive' U.S. Growth With Gradual Rate Hikes
(Bloomberg) -- The steady pace of U.S. economic growth, supported in part by monetary policy, is consistent with the central bank's plan to continue gradually lifting interest rates, said Raphael Bostic, president of the Federal Reserve Bank of Atlanta.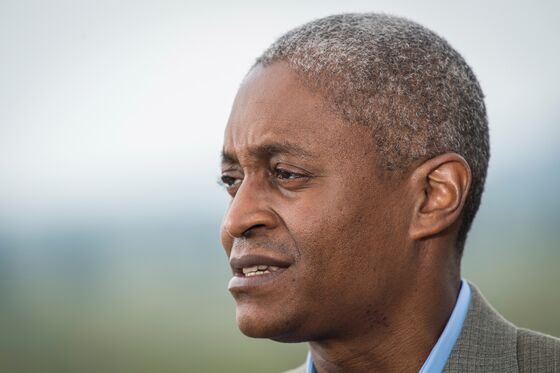 "We've seen the economy continue to strengthen and continue to perform in a very positive way," Bostic, a voting member of the Fed's committee that sets interest rates, said during a community conversation at the Atlanta bank's headquarters Saturday.
He said it's been more than nine years since the recession ended and the goal of policymakers is "to try to keep this going as long as possible."
Even after recent increases, the Fed's key overnight lending rate is set at a range of 2 percent to 2.25 percent -- still below the 2.5 percent to 3 percent range that the Fed considers neutral because it neither stimulates nor restrains growth, Bostic said. "There's still a couple more moves that are left," he said.
The economy has been expanding since the end of the recession in mid-2009, helping drive unemployment to a 48-year low. President Donald Trump recently stepped up criticism of the central bank's moves to raise interest rates to keep growth from triggering an increase in inflation, saying "the Fed has gone crazy" and blaming it for stock-market losses.
The Fed has played an important role in nurturing the expansion and is "still in a stimulative position," Bostic said. At the same time, it's gradually trying to "let the economy stand on its own legs," he said. "We should not have an economy that is continuously dependent on maximum stimulus through monetary policy."
Bostic said that even though growth is strong, based on travel within his district, "we have at least two economies" with many residents left out. In some areas, "you see an economy that is struggling," he said.
The national averages may not reflect how all Americans are living, he said in response to a question about the low unemployment rate and how the Fed is helping tackle challenges such as homelessness that aren't reflected in the jobless rate.
Bostic reiterated his remarks from Friday that trade-related uncertainty was prompting some companies to hold off on business decisions. Many firms affected by tariffs haven't passed them on to consumers, so it'll be interesting to watch over the next six to eight months, he said Saturday.
The cost of materials has risen for U.S. producers in the wake of the Trump administration's tariffs on imported steel and aluminum, and levies on about $250 billion of imports from China. Businesses he talked with "are all feeling the pressure," Bostic said.