Winter's March Swipe at NYC Promises Icy Temps, Sloppy Walks
(Bloomberg) -- New York may face an icy reminder Wednesday that winter isn't yet over.
While frigid temperatures sweeping the U.S. at the start of March probably won't greatly impact natural gas prices or dormant winter wheat crops, it's likely to get a bit sloppy on the streets of Manhattan.
The high temperature for New York will reach about 30 degrees Fahrenheit (1.1 degrees Celsius) on Wednesday, or 14 degrees below normal. The city could also see a bit of snow that will eventually change to sleet and freezing drizzle, said Richard Bann, a forecaster with the U.S. Weather Prediction Center in College Park, Maryland.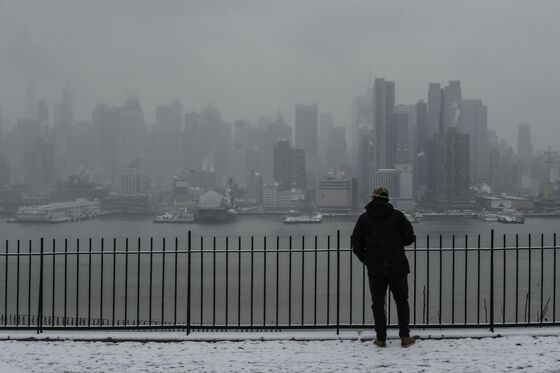 "It is not going to be a big coastal type storm," according to Bann. Accumulations in New York, though, will remain under 1 inch (2.5 centimeters), he said.
Winter weather advisories stretch across upstate New York and into New England, where Boston could get as much as 4 inches by early Thursday, the National Weather Service said. The Northeast will be gripped by a chill with temperature lingering below normal.
Bann said Mt. Washington in New Hampshire clocked a low of -27 Fahrenheit (-33 Celsius) overnight. The temperature is currently -18 on New Hampshire's highest peak. In Manhattan, the high will reach about 30 Wednesday or 14 degrees below normal.
After the storm pushes offshore, U.S. temperatures could plummet. March will start with readings of 15-degrees below normal, ranging from Washington in the west to upstate New York in the east, and pushing as far south as Oklahoma and Arkansas, said Matt Rogers, president of the Commodity Weather Group LLC in Bethesda, Maryland.
The heart of the heating season has passed so the cold won't be enough to prop up natural gas prices, which rose Tuesday to a four-week high. Gas was down 1.8 cents to $2.788 per million British thermal units at 11:27 a.m. on the New York Mercantile Exchange. Electricity prices in New York barely budged, with power for delivery Wednesday morning down 4.2 percent to $30 a megawatt-hour, according to Genscape data.
A layer of snow on wheat fields will also limit the cold's bite, said Ryan Truchelut, president of Weather Tiger LLC. "We're looking at a three-to-five-day cold snap within a broader very cold month for the Plains," Truchelut said.