Fear the Cloud. There's Lots of Room to Pull Back: Taking Stock
(Bloomberg) -- The selling remains vicious and the bounces are listless.
Let it sink in that Monday was one of the worst days for software stocks in years. Let it further sink in that volumes on the consolidated tape were among the highest for any Monday thus far in 2018.
Now turn your attention to the action today, as S&P futures are tumbling another ~22 handles after yesterday's 46-point tumble in the cash index while the QQQs are extending yesterday's losses by another full percent.
The combination of plummeting sentiment in the tech space as the Nasdaq dances around long-term support at the 7,000 level is not a good one. Add in what might be an extension of the retail bloodbath (XRT already down 7 days in a row coming into today) with Target sinking >7% in pre-market trading and Lowe's indicated lower by a chunk of points post-earnings, which will only complicate matters for the bulls.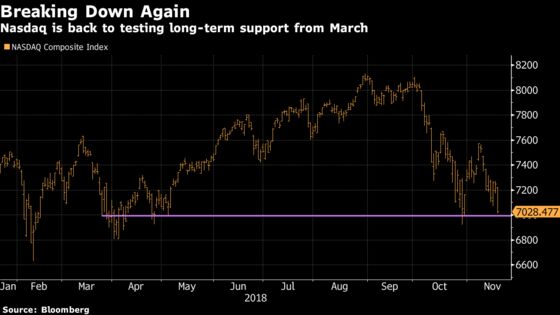 Apple and Alphabet are both down ~20% from their respective peaks as of Monday's close, and thus are flirting with bear market territory, while Facebook looks like a raging dumpster fire -- every member of the FAANG complex is trending lower by one-and-a-half to two percentage points.
Nvidia's market value has been chopped in half over the past six weeks, and shares are getting hit by another ~4% in the pre-market; a front page WSJ story this morning about how the company "walks a high wire" between the U.S. and China as it navigates political and trade tensions isn't helping.
Square's chart says it all, with the stock breaking below its 200-day moving average for the first time in two years (see chart below) and trending towards oversold territory. Not surprisingly, this one is down another 4% so far this morning.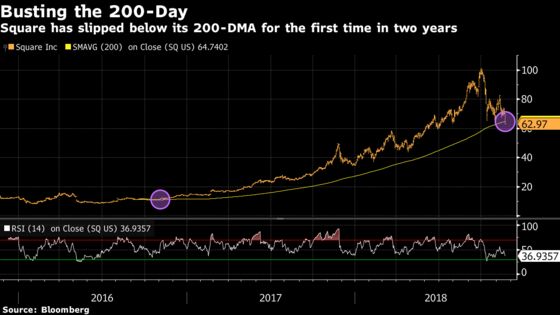 But aside from the worries plaguing growth and momentum stocks that's been well documented in this column and elsewhere, there are a couple of other factors that are being talked about by sell-siders more and more: 1) credit spreads blowing out without a corresponding move in the equities market (see chart below), and 2) selling related to last week's quarterly redemption date for hedge funds, which comes after a rash of closures and the worst month for the industry in seven years.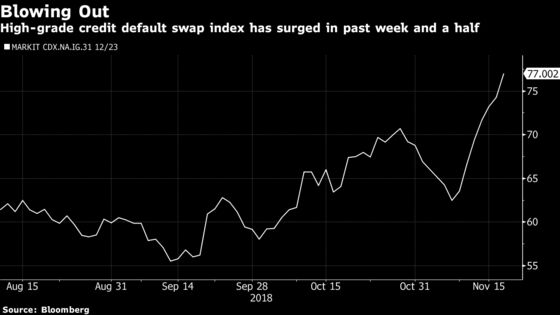 But if there is still fallout to come from any of the aforementioned concerns, I have to think that anything tech/growth/momentum remains squarely in the bullseye for added pressure.
It's not like panic has set in yet. Some of the best measures of tech-slash-momentum performance aren't even remotely negative for the year. For example, the $1.7 billion iShares North American Tech-Software ETF, or IGV, is still up 11% for the year even after just completing its worst session in two-and-a-half years. Meanwhile, the similar-sized First Trust Cloud Computer ETF, or SKYY, and the ML FANG index, or MLDIFANG, are both higher by >8% this year versus the Nasdaq up less than 2%.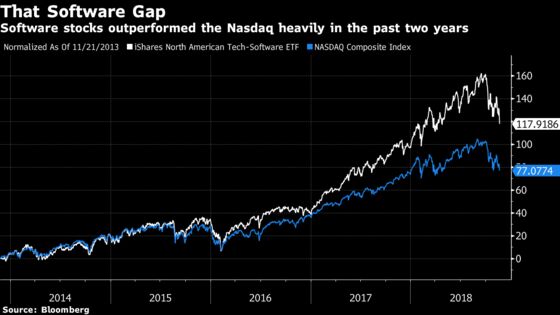 But to me, it's the cloud stocks that have been the most important proxy for momentum (and fine, throw in Square too). Strip out Red Hat after the IBM deal and you'll see that practically every stock that is exposed to "the cloud" has sold off an incredible amount ever since the October meltdown set the market ablaze: Names like the $92 billion market cap behemoth Salesforce as well as ServiceNow, Splunk, Workday, and Coupa Software are all down anywhere from 20 to 30 percent.
Software analysts appear shell-shocked from the seemingly endless selling. Several are out reworking valuation screens (flipping between EV/Revenue and EV/FCFF) to better understand conservative assumptions on the Street. Others are backing up the truck on some beaten-down names (notably in cybersecurity land today), while others are pinning hopes on what should be one of the biggest catalysts in the space over the next couple weeks: Salesforce earnings next Tuesday.
As for where we stand coming into this morning, there was one data point in the cloud out overnight that's worth keeping tabs on -- $4.1 billion market cap flash storage company Pure Storage, which was already down >30% since the end of September, came out with a print that satisfied the Street and the stock popped more than 7% in the afterhours.
The action here could be very telling, because if shares begin to pare gains or even fade the move entirely, that would indicate to me that the fast money that has crowded into this space (hedge funds account for ~13% of PSTG's total ownership) are clearly still looking to take any opportunity to sell into strength and that should spill over into the rest of the momentum arena.
Retail after large-caps Target and Lowe's are poised to open much lower after earnings, as mentioned above
Semis after Brooks Automation slid nearly 10% on a big revenue miss
Recent Chinese tech IPOs, like HUYA and Bilibili (reports tonight), after Pinduoduo surges more than 11% on a top-line beat
Homebuilders may be volatile with Housing Starts hitting at 8:30am, though the group shrugged off the biggest drop in NAHB/Wells Fargo Housing Market confidence figures since 2014 on Monday
Watch ag machinery stocks ahead of bellwether Deere's report Wednesday morning
Notes From the Sell Side
Goldman's Rod Hall slashed his price target on neutral-rated Apple from $209 to $182, which is one of the lowest out there and undercuts the average by almost $50. He cites weakness in demand for Apple's products in China and other emerging markets, adding that the price and features of the iPhone XR "may not have been well-received by users outside of the US." Hall also sees "material risk" to Apple's March quarter guidance if current demand trends continue to play out.
Baird slashes Micron to an underperform with a Street-low price target of $32 on continued deterioration in both DRAM and NAND pricing: "We model DRAM gross margin erosion from recent 71% peak to 50% in C2H20, driven by channel inventory reductions and capacity increases. NAND outlook continues to worsen, with contract pricing expected to decline mid teens in each of the next two quarters, and spot reaching cost in C2Q19. China is a risk notably for NAND in 2021."
Boeing is defended at two shops today: 1) Bernstein says Boeing is its best idea in the U.S. aerospace and defense sector, an idea they presented at a lunch event on Monday, while 2) Cowen says the concerns over the company's headline issues "look overblown" given its 8.8% 2019 cash flow yield.
Gordon Haskett's John Inch is out hammering GE yet again, saying that the Baker Hughes "fire sale could drive $ billions in additional write-downs." He says the more write-downs to equity may push the company closer to another credit downgrade(s) that could further significantly squeeze GE's operations.
Tick-by-Tick Guide to Today's Actionable Events
Today -- American Society of Hematology (ASH) meeting late-breaking abstracts; may impact ABBV, JNJ
Today -- IPO lockup expiry: GSKY, SRRK, KNSA
7:00am -- BBY, KSS earnings
7:15am -- CPB earnings
8:00am -- ADI earnings
8:00am -- NERV investor meeting
8:00am -- PDD earnings call
8:30am -- Housing Starts
8:30am -- TJX (roughly), ROST, BKS earnings
8:30am -- AMRN CEO John Thero on Bloomberg TV
9:00am -- KSS earnings call
10:00am -- BBY, CPB earnings call
11:00am -- TJX earnings call
12:00pm -- ROST earnings call
12:45pm -- MS CEO James Gorman on Bloomberg TV
4:00pm -- FL, BJ, CPRT earnings (timing uncertain)
4:01pm -- ADSK earnings
4:05pm -- ESL, KEYS, QADA earnings
4:15pm -- GPS, CAL earnings
4:30pm -- API oil inventories
5:00pm -- ADSK, GPS, FL earnings call
6:30pm -- BHP investor day
7:00pm -- BILI earnings