FCC Chair Punts Social Media Regulation Trump Sought to Congress
(Bloomberg) -- Federal Communications Commission Chairman Ajit Pai said he's abandoning a proposal to limit the liability shield for social media companies that President Donald Trump requested.
"I do not intend to move forward" with an order on the shield because there isn't enough time, Pai said in an interview on the C-Span program "The Communicators." Pai, a Republican, is to leave office Jan. 20 as control shifts to Democrats who oppose agency action on the matter.
At issue is Section 230 of the Communications Decency Act of 1996, which gives the likes of Facebook Inc. and Twitter Inc.. broad immunity from lawsuits for decisions to take down users' posts.
Asked what should be done with Section 230, Pai replied that "within Congress there seems also to be a consensus that it should revised, or reformed in some way."
"In terms of changing the law, that's a decision for lawmakers to consider," he said.
Democrats in Congress and President-elect Joe Biden have also criticized Section 230 though they slammed Trump's order to rein in Big Tech when it was issued in May.
Senator Richard Blumenthal, a Connecticut Democrat and a key player in debates over Section 230, said the assault on the Capitol this week "will renew and focus the need for Congress to reform Big Tech's privileges and obligations."
"This begins with reforming Section 230, preventing infringements on fundamental rights, stopping the destructive use of Americans' private data, and other clear harms," Blumenthal said.
The attack on the Capitol Wednesday was "livestreamed, fomented, and fueled by extremists over YouTube, Facebook, and Twitter," Blumenthal said in a statement. "Despite repeated red flags and demands for fixes, these companies failed to act until well after blood and glass lay in the halls of the Capitol."
Trump and others on the right have long accused social media platforms of censoring conservatives, something that the technology giants deny. Democrats criticize the online platforms for hosting content that misinforms or incites violence.
Trump's prolific and at times incendiary use of social media has heightened tension around how companies use the legal shield, although legal scholars say many of their moves are protected under the Constitution's free speech guarantees.
Twitter and Facebook this week suspended Trump's accounts after he encouraged and supported rioters at the U.S. Capitol. Twitter put the president on a 12-hour hold, and Facebook said it was extending a ban on Trump's posts "indefinitely," or for at least two weeks, until President-elect Joe Biden takes over.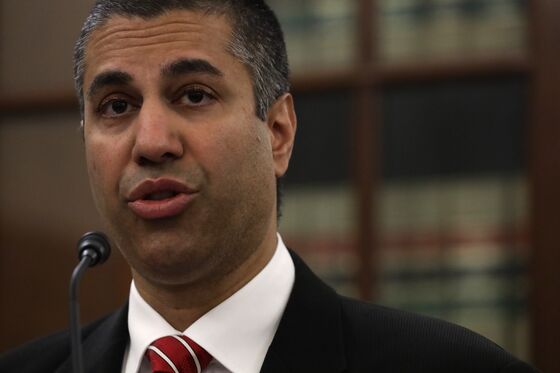 Pai's departure would leave the FCC at a 2-to-2 partisan deadlock until the Senate confirms another member selected by Biden. In the meantime, the president will be able to designate one of the sitting Democrats as chair with control of the agency's agenda.
The Commerce Department, under orders from Trump, asked the FCC to offer an interpretation of Section 230 that critics said would leave Twitter, Facebook and others more vulnerable to litigation for moderating the posts of users.