Fathers of Carbon Market Say EU Needs Higher Pollution Costs
The European Union should not weaken the world's biggest carbon market after prices surged to a record last month, according to two of its founding architects.
Prices have jumped about 30% in the past six months, partly on speculation by hedge funds. While the sharp gain helps the environment by making power generation from fossil fuels more expensive, many European companies are getting increasingly concerned that surging costs will hurt their competitiveness.
The pace of the gains and expectations by some hedge funds that prices may more than double this year already triggered renewed discussions among lawmakers on whether the EU should propose measures to limit speculation. Jos Delbeke and Peter Vis, former senior climate officials at the European Commission, spoke against such a move in a policy brief published by the European University Institute on Thursday.
"The European carbon market has never been more important as an instrument to secure emission reductions cost effectively," they said. "Maintenance of its proper functioning must be the priority as we move up a gear in terms of ambition. A higher carbon price is what was always intended to drive change."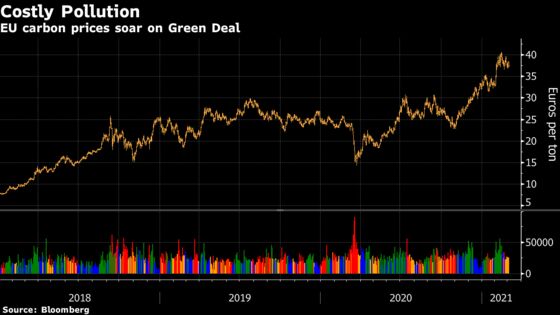 One way to limit the sway of speculators in the market would be for the commission to propose restrictions on holdings of permits in the trading program's registry.
That would be "not as simple nor as effective as it sounds," according to Delbeke, who is now the EIB Professor of Climate Policy at the EUI, and Vis, a senior research associate. They also added that regulatory changes in the EU take time, with some issues requiring several years of political talks.
They also said the market may could expect more calls for direct price intervention, with suggestions to introduce a price ceiling likely to match proposals on a price floor, which has been urged by France for years.
"However, it is far from clear that price controls alone would eliminate speculation," they said. "Ideas of such price controls are extremely difficult to agree on."
Rising carbon prices are a sign of investors' confidence in Europe's ambitious Green Deal strategy to become climate-neutral by 2050, said Vis and Delbeke. The level is still at the lower end of the $50-$100 range considered to be necessary globally, they said.
Further evolution of prices will depend on the details on a proposal by the EC in June to align the EU ETS with a stricter climate goal for 2030. More volatility is likely yet companies should have no doubts that momentum driving climate action will only increase, according to Delbeke and Vis.
"If carbon prices in Europe were to go through the roof, the EU should better concentrate on how to create over time an additional supply of carbon allowances, such as through the development of intra-EU offsets and certificates of carbon removals," they said. "The net-zero targets by 2050 require urgently more action on that front."