Surprise Russia Growth Surge Raises Doubts About Data
(Bloomberg) -- Russia's Federal Statistics Service said the economy grew at the fastest pace in six years in 2018, outstripping estimates from economists, who voiced skepticism about the accuracy of the data.
Growth accelerated to 2.3 percent after construction and the services industry got a boost from the start of natural gas project in Siberia and the World Cup, according to a first estimate published Monday. That was above the highest forecast in a Bloomberg survey and well beyond the 1.9 percent that the median expected.
Analysts questioned the accuracy of the data, which would bring the economy closer to ambitious growth targets set out by President Vladimir Putin. Once the life-blood of the Russian economy, consumers are still struggling with stagnant incomes following a nearly two-year recession.
"The statistics are starting to be less and less reflective of the actual state of the economy," said Vladimir Tikhomirov, chief economist at brokerage BCS Financial Group. "There isn't anything from companies and economic activity to suggest growth should be higher than 2 percent. It raises red flags about the accuracy of the economic picture."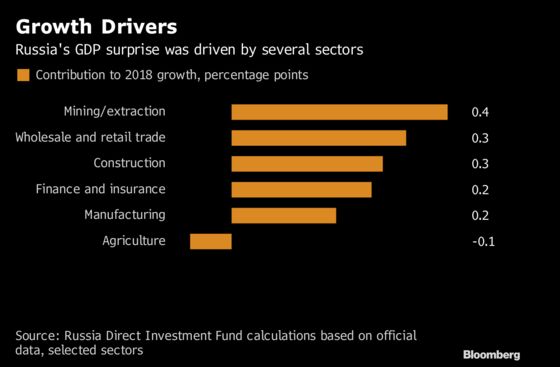 Part of the surprise came from an upward revision in construction data after the statistics agency received last-minute numbers from a region in north Siberia where Novatek PJSC's has begun a $27-billion LNG project. The 2018 soccer World Cup also helped the restaurant and hotels sector, which expanded 6.1 percent.
What Our Economists Say...
"The surprising strength in GDP growth reflects construction revisions as well as a healthy start to 2018. It masks a weak finish to the year across key sectors, including manufacturing. Fierce headwinds could bring growth to a crawl in the quarters ahead."

--Scott Johnson, economist, Bloomberg Economics.
The Economy Ministry took control of Russia's Federal Statistics Service nearly two years ago after it criticized the quality of data being produced. Former Economy Ministry official Pavel Malkov was appointed head of the statistics body last year to address issues including the collection of primary data.
Even with growth at 2.3 percent, Russia is still punching well below its weight compared to emerging-market peers and its own performance before recession struck in 2015. Putin promised after his election last year to bring growth to a level that exceeds the global average of 3.7 percent by the end of his six-year term.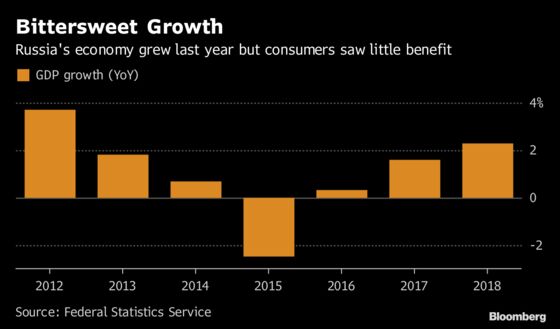 Economic growth is expected to slow this year and the central bank warned Friday that first quarter numbers may come in below expectations after investment activity weakened at the end of last year.
"Since they revised up the construction numbers, the growth figure isn't too surprising. What is surprising is that they revised those numbers up so much," said Valery Mironov an deputy director at Moscow's Higher School of Economics. "Such unexpected revisions cause people to lose faith in statistics."