Farmers Forge Ahead as Cold Snap Freezes America's Midwest
(Bloomberg) -- While many Americans in the frozen Midwest hunker down indoors, central Iowa farmer Ethan Crow has been outside lining his barn and fences with extra bales of hay and corn stalks to break the wind hitting his cattle.
Overnight into Wednesday, he checked on his roughly 50-head herd every few hours to make sure they had feed and he chipped ice off the water dispenser. First thing in the morning, a frozen valve had to be thawed with torches and heaters. Crow is among a legion of farmers, particularly those with livestock, faced with temperatures that in some areas are lower than at the South Pole.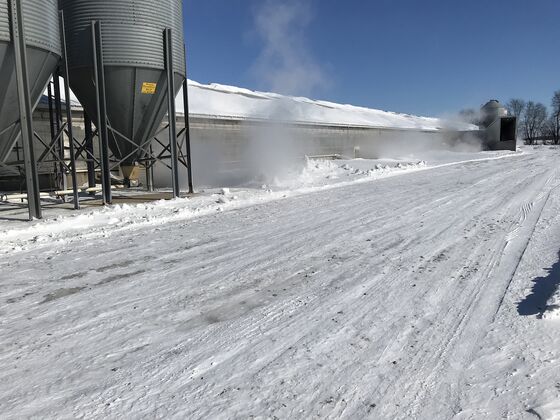 "This has been one of the more challenging winters," Crow, a third-generation farmer, said in a telephone interview Wednesday.
By mid-morning Thursday, the coldest recorded temperature in the contiguous U.S. was Cotton, Minnesota, with a low of minus-53 Fahrenheit (minus-47 Celsius), according to the U.S. Weather Prediction Center's website. Chicago was minus-17 with a wind chill of minus-36.
Across the Midwest and Great Plains, temperatures are set to moderate for the weekend, rising into the 40s and 50s across parts of Iowa, Illinois, Wisconsin and Indiana. The mild weather probably won't last as another round of cold is set to return at the end of next week, said Don Keeney, a senior agriculture meteorologist at Radiant Solutions in Gaithersburg, Maryland.
The deep cold could threaten dormant wheat crops from Nebraska to Ohio and there's potential for more frigid temperatures next week, he said.
The arctic weather prompted meat giant Tyson Foods Inc. to close six plants in the Upper Midwest Wednesday due to concern for "worker and animal safety," the company said in a statement. It expects the facilities to resume production Thursday.
Smithfield Foods Inc. is "taking necessary precautions to ensure the comfort and safety of its employees and animals during the extreme winter weather," the company said in a statement. Its facilities and farms "remain operational, and are implementing additional safety measures."
Livestock farmers in North Dakota, South Dakota and Montana could face another round of bitterly cold weather next week, said Judah Cohen, director of seasonal forecasting at Atmospheric and Environmental Research in Lexington, Massachusetts.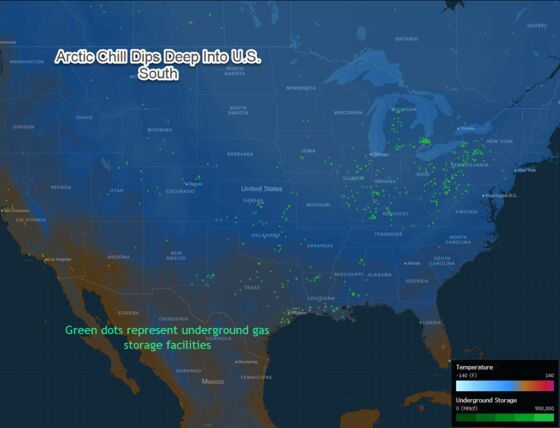 Farmers have to figure out ways to prevent frostbite on animals as well as keep them dry, fed and hydrated. Older animals that have grown winter coats are pretty resilient even in these frigid temperatures, but the young calves are a concern, said Illinois rancher Steve Foglesong.
The winter hair on the 4,000 cattle in Foglesong's outdoor feedyards in Vermont is all fluffed up. They keep each other warm by snuggling together. The freezing weather is hard on farmers and workers, whose work includes chopping ice in ponds and creeks that supply the feed yards, he said.
While many hogs are mostly in climate-controlled barns and generate a lot of excess body heat, farmers and workers are out clearing snow from doorways and driveways to get feed delivered, said Iowa farmer Wayne Humphreys, who raises corn, soybeans and feed hogs near Columbus Junction.
"It's winter," Humphreys said in an email. "It's normal. We do not enjoy it, but we are equipped and ready for whatever it takes."
While farmers are a tough lot, the historic low temperatures are making getting around difficult. The bitter cold and heavy snows make starting and driving tractors and skid loaders challenging. Diesel fuel starts to gel.
Daniel Olson, a seventh-generation dairy farmer just north of Green Bay, Wisconsin, hasn't been getting much rest. He needs to prevent frostbite on his animals and keep their water from freezing. Plus, they need more bedding and eat much more during cold snaps.
"For a couple of days, we can make it work," he said by phone. "But it is definitely difficult, so we're not getting a terrible amount of sleep right now."
Grain and soybean farmers have to wait it out as many elevators and plants halt operations temporarily.
Cargill Inc., one of the largest U.S. grain handlers, has closed all Midwest grain plants amid frigid weather but expects them to open Thursday as temperatures increase, April Nelson, a spokeswoman, said in an emailed statement.
Archer-Daniels-Midland Co., the largest corn processor, has closed some of its grain elevators in the Midwest due to the cold blast and adjusted some of its transportation routes, Jackie Anderson, an ADM spokeswoman, said in emailed statement.
"We have closed a few elevators and adjusted some transportation routes and are taking extra precautions for employees that may be exposed to the elements during their work day," Anderson said. "We are working directly with any customers that may be impacted but do not expect significant delays or issues at this time."