Farm Deregulation Puts Bolsonaro on Collision Course With Commodity Buyers
(Bloomberg) -- Pledges by Brazilian presidential front-runner Jair Bolsonaro to ease environmental curbs in the agricultural powerhouse may collide with the sustainability aspirations of commodity buyers.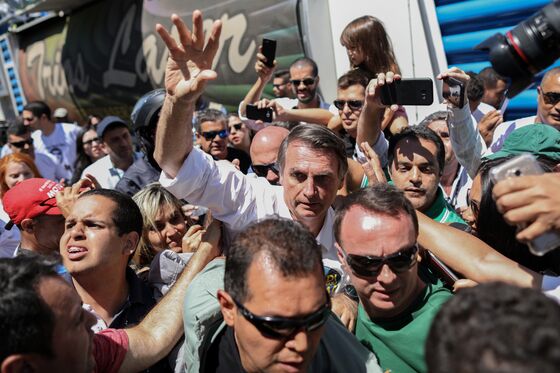 Despite the far-right candidate signalling he'll remove impediments to farming growth, trading houses and oilseed processors won't be rescinding their commitment to measures aimed at stopping deforestation, according to Abiove, a group representing agribusiness giants including Cargill Inc. and Bunge Ltd. In a statement, Abiove cited greater demands from local and overseas customers on compliance and best practices.
That includes maintaining a moratorium on purchases of soybeans from newly deforested land in the Amazon region. The ban, which has been criticized by farmers, was established in 2006 after the publication of a Greenpeace report called "Eating up the Amazon."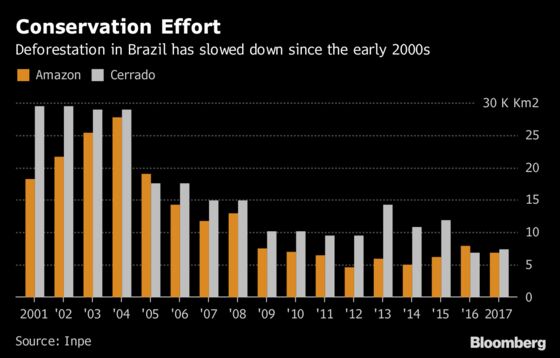 Bolsonaro, the favorite to win Sunday's runoff election, is looking at overhauling a strategy that saw deforestation in Brazil's Amazon drop by 75 percent from a 2004 peak. Even so, an area the size of Delaware is cleared every year.
The former army captain has signaled he may dilute the oversight powers of environmental watchdogs Ibama and ICMBio, open up indigenous reserves to farming and mining and merge the environment and agriculture ministries. Withdrawing from the Paris agreement, following Donald Trump's example, is also a consideration.
But reducing environmental-protection efforts may sound alarm bells with foreign buyers including Carrefour SA that have made public commitments to tackle soybean deforestation and may lead to trade bans, according to Marcio Astrino, a public-policy coordinator at Greenpeace Brazil.
Farming in Brazil has boomed since the early 2000s thanks largely to Chinese demand for soybean, which is used in everything from animal feed to fruit beverages. The area planted with the oilseed has almost tripled in that span, expanding into the country's northern savannas and the Amazon biome.
Still, farmers are struggling with stifling bureaucracy, corruption and extremist ideology from some environmental inspectors, according to Bartolomeu Braz, the head of soybean producers group Aprosoja. That explains why Bolsonaro's plan, which includes easing the approval process for pesticides and a harsh stance on landless movements and foreign non-governmental organizations, has been widely supported by farmers, he said.
"We're really optimistic about Bolsonaro's program," Braz said. "We must be allowed to responsibly explore our natural resources -- which nation doesn't?"