Far From GE's Collapse, Jeff Immelt Is Wheeling and Dealing Again
(Bloomberg) -- While General Electric Co. was in meltdown mode this week, the former CEO that many blame for creating the mess was out there wheeling and dealing.
Just seven months after Jeff Immelt resigned from GE's top job, he was named chairman of Athenahealth Inc., a provider of digital services for doctors, located a few miles from the industrial giant's Boston headquarters. In June, he was elevated to executive chairman after the CEO stepped down. And on Monday, Athenahealth said it would sell itself for $5.7 billion in a deal Immelt helped broker.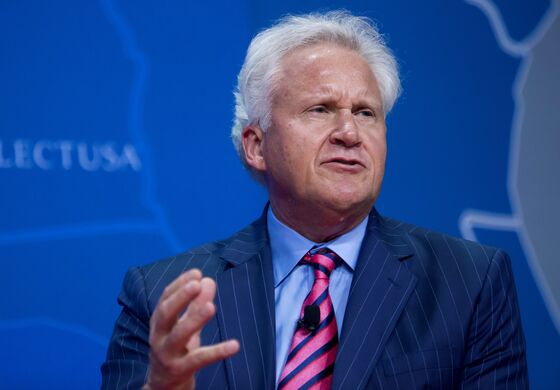 "Outsiders think this is like baseball and that if you have struck out a few times, you're not allowed to play -- but that's not true" said Jeffrey Cunningham, who's been a corporate executive and served on several boards. "It's perfectly acceptable that he's starting a second act."
Of course, many would disagree with that assessment. To GE pensioners and investors, who've seen the value of the company shrink by more than half a trillion dollars over the past 18 years, Immelt's tenure was a disaster. He was put in charge of an iconic powerhouse that for decades had been seen as corporate America's crown jewel. A handful of ill-fated acquisitions and the financial crisis' devastating blow to GE's enormous finance division instead turned the firm into a case study of a conglomerate that lost its way. To them, his comeback was a big surprise.
His 16-year tenure ended abruptly in 2017 when shareholders grew frustrated by his failure to arrest the stock's slide. It's only plunged further since, leaving it at levels not seen since the financial crisis. That's sparked even greater ire among those who blame Immelt for the company's dwindling fortunes.
"I still believe in the company. I own a ton of shares" Immelt said Thursday at the World Business Forum in New York, according to a CNN report. He also said he regretted not separating the firm's industrial divisions from its finance business and that "the worst decisions you ever make are on people."
Whatever the case, some continue to view him as a world-class executive who had the near impossible task of shepherding a massive industrial company into a more nimble, high-tech future. It's not surprising, then, that another firm would bring him in to lend a hand, said Cunningham, now a professor at the Thunderbird School of Global Management at Arizona State University.
"Typically an outsider measures only outcomes and not process, and therefore they are subject to bias and a delusion about how business works," he said, adding another baseball analogy: "You may be facing a pitcher called the digital revolution that everyone's going to strike out on."
Immelt played a critical role in helping Athenahealth navigate through a challenging year, John Fox, a company spokesman, said in an email. "Thanks in part to his great leadership, we're now positioned well for our next phase of growth and success," Fox said.
Immelt's February appointment as Athenahealth's chairman came after Paul Singer's Elliott Management Corp. pushed the firm to make changes to its operations and governance structure, and consider a sale.
At the time he joined the board, Immelt saw plenty of opportunity for the firm to grow. "When I looked at Athenahealth, I see a certain size company that has a chance to be multiples of that," he said in an interview with Bloomberg.
In June, he was named executive chairman after CEO Jonathan Bush abruptly resigned amid allegations of assault against his ex-wife and complaints about inappropriate behavior with female employees. Immelt's first order of business was announcing that the board would evaluate "strategic alternatives," including a sale or a merger, which Elliott had suggested all along.
On Monday, Elliott and private equity firm Veritas Capital struck a deal to buy Athenahealth in an all-cash transaction. It will be combined with Virence Health, Veritas's health-care services company, which helps manage revenue and workflow for hospitals and physician practices. Virence CEO Bob Segert will run the combined entity.
The deal is expected to close early next year, and when it does, stock awards worth about $1.1 million that Immelt has previously received will vest, according to data compiled by Bloomberg.
Veritas, based in New York, invests in technology-focused companies. In April it agreed to buy part of GE's health-care IT business for $1.05 billion.