Fans of Curve Steepener See Trade Take Flight, More to Come
(Bloomberg) -- For investors in the curve-steepener trade, the updraft in Treasury yields of the past 48 hours is more than just a welcome reprieve -- it also signals a long-awaited regime shift.
The selloff in bonds that propelled long-dated U.S. yields to multiyear highs Thursday, and drove the gap over short-end yields to its widest level in months, has abated. But it's not over yet for those who called a reversal in the roughly two-year trend of curve flattening. Among them is Mark Kiesel at Pacific Investment Management Co., who says investors may finally be coming to terms with economic reality and the risk of inflation.
"'Make America Great Again' means higher rates," said Kiesel, global portfolio manager at Pimco. "There's been a misconception by some that the U.S. economy can't handle higher rates -- the fact is the U.S. economy is strong enough."
Long-dated yields eased off their highs Thursday, leaving the 10- and 30-year yields closing around 3.19 percent and 3.35 percent, respectively. Trading was subdued in Asian hours on Friday, with the spreads between these maturities and two-year yields remaining at more than 10 basis points above their lows of recent months.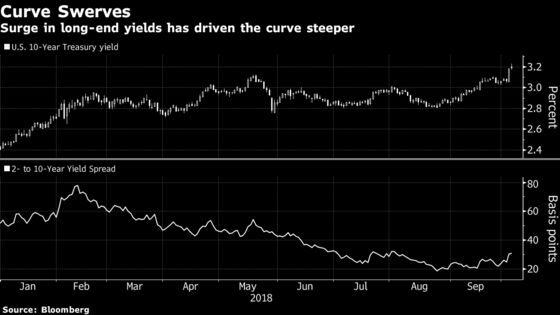 The flattening camp is far from packing up, judging by large trades in the middle of the curve during Thursday's session, which helped to stall the steepening move early in the U.S. session. But the debate over the curve's path is heating up, stoked by this week's strong economic data and Federal Reserve Chairman Jerome Powell's enthusiastic descriptions of the state of the economy.
The swiftness of this rates reset casts stronger doubt on the flattening trend that's gripped investors and policy makers alike because of the signal it may send about the economic outlook. Analysts at Morgan Stanley and BMO, who were among those forecasting that move, have been vindicated by the curve's collapse. The winners of the steepening trade are yet to be determined.
"We've been in the steepener camp for a bit," Mike Schumacher, a rates strategist at Wells Fargo, said in an interview. "It's been a pretty lonely camp, plenty of room, so it's nice to see movement in that direction."
Wells Fargo is sticking with its steepening call, and sees the gap between the two- and 10-year yields ending the year at 35 basis points, compared with just over 30 now. In a research note Thursday, the bank's strategists cited "hefty supply," as the Treasury is forced to increase issuance across maturities to plug deficits, along with reduced demand as central banks globally unwind stimulus.
For his part, Kiesel at Pimco remains focused on inflation, which has been the missing link in this economic cycle. Pimco's positioning is in the five- versus 30-year spread.
"We are constantly talking to companies, and this labor market is a lot tighter than people think," he said, highlighting that firms are already starting to talk about shortages. "These inflationary risks are out there and I think the market's been ignoring them."
Those risks have been easy to ignore, in part because wage growth remains well below its pre-crisis levels. U.S. payrolls data set for release Friday are expected to show a slight decline from a month ago, to 2.8 percent annual growth. In Kiesel's view, however, this rate will head higher in response to continued labor-market strength in a thriving economy.
In his view, the 10-year yield can probably rise to at least 3.5 percent before starting to crimp growth, and the early warning signal for economic stress will be in the housing market.
"My signal's going to be very clear: when I see housing inventories rise," he said.