Fannie-Freddie Shock Is Latest Blow to Funds in Doomed Trade
(Bloomberg) -- A plunge in Fannie Mae and Freddie Mac shares after a Supreme Court ruling marked one of the biggest setbacks yet in a disappointing decade for funds that wagered that these entities would one day exit federal control.
Capital Group, Fairholme Capital Management, Paulson & Co., Blackstone Group Inc.'s credit unit, Discovery Capital Management and Pershing Square are among investors that have bet on a massive jump in value for the government-sponsored enterprises.
Those wagers went south on Wednesday after the court rejected claims that the Federal Housing Finance Agency exceeded its authority in collecting more than $100 billion in profits from the enterprises. Freddie Mac shares sunk 37%, while Fannie Mae preferred shares favored by many investors slid about 62%. Both rose by about 2% as of 9:50 a.m. in New York.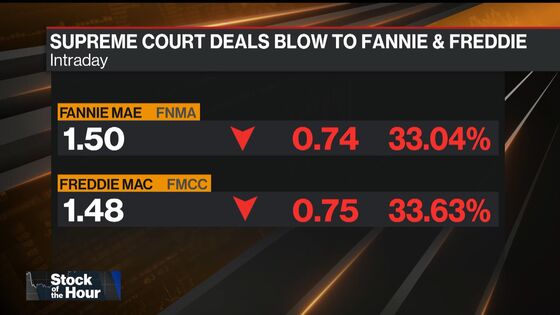 Capital Group was likely among the big losers. The $2.4 trillion mutual fund company increased its wagers in Fannie Mae last year, according to public filings, even as some hedge funds trimmed or exited their holdings following then-President Donald Trump's election defeat.
If Capital Group held the same number of Fannie Mae preferred shares reported as of May 31, it would have lost about $280 million on Wednesday alone. If it held the same number of common shares as it did at the end of the first quarter, it would have erased an additional $100 million.
A Capital Group spokeswoman declined to comment.
Rob Citrone's Discovery trimmed its position after Trump lost, according to an investor in the firm, though still held on to some of its stake ahead of the court ruling. Wednesday's drop meant Discovery is slightly underwater on its investment, the person said.
Bill Ackman's Pershing Square also continued to hold shares, according to statements he made to investors this year.
Representatives for Citrone and Ackman declined to comment.
In March, Ackman told investors that if the Supreme Court ruled in shareholders' favor, it would be "a game-changing event." He added then that regardless of the decision, "our investment in the GSEs is a valuable perpetual option on their eventual exit from conservatorship due to their widely acknowledged irreplaceable role in the U.S. housing finance system." He reiterated these comments in May.
For at least a decade, investors have pinned their hopes on Fannie Mae and Freddie Mac shedding government control.
Kyle Bass, whose Hayman Capital made winning bets against U.S. subprime mortgages, predicted at a conference in 2011 that buying the preferred shares could be "an eight to 10-bagger from here." He sold his entire position in November, according to an investor in Bass's firm.
While the GSEs have remained under government sponsorship in the wake of the 2008 financial crisis, there have been chances to make money.
The price of Fannie Mae preferred shares traded as low as 31 cents in July 2010 and as high as $13.90 in June 2019 amid optimism that the Trump administration would resolve their status.
In their ruling Wednesday, however, the Supreme Court justices sent the case back to the lower court where investors may be able to collect damages. Yet that decision means shareholders "can't recover the bulk of the overpayments they sought," said Bloomberg Intelligence analyst Elliott Stein.
For those investors still hanging on, the wait could be long. President Joe Biden may be in no rush to free Fannie and Freddie in part because they are a linchpin in one of his top goals -- eliminating economic inequities. Keeping the enterprises under government control will make it easier for them to extend mortgage financing to underserved communities.
The White House named Sandra Thompson acting director of the FHFA, effective immediately, according to a statement released late Wednesday. She had been the regulator's deputy director of the division of housing mission and goals since 2013.