Falling Uber Prices? In London? It Could Happen.
(Bloomberg Opinion) -- Uber Technologies Inc. may be about to lose its license to print money in London. The irony is that its new rival has the same backer: Softbank Group Corp.
Ola Cabs, the Indian ride-hailing firm, started operating in South Wales in August. It's slowly encroaching on markets in which Uber is active: The English city of Bristol is next. The real prize would be the British capital.
That's significant because it's one of Uber's most profitable markets, not least because it's pretty much the only ride-hailing game in town. And this puts Softbank in a fix.
In San Francisco, the base price for an Uber is $2.20, according to UberEstimate.com. In London it's 2.50 pounds ($3.20), the company's website says. Sure, drivers in London have to pay a congestion charge, but that doesn't reduce the platform's cut. The discrepancy is largely because in San Francisco it is in a fierce price war with Lyft Inc., so it charges less and offers frequent discounts.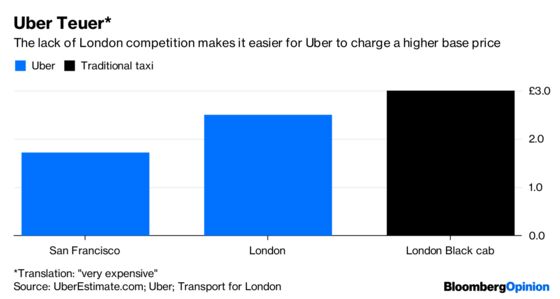 When I lived in the Bay Area, my decision on which service to use was pretty simple. I'd open both the Uber and Lyft apps, enter the same route and see which was cheaper. It was seldom to do with quality of service; it was purely a question of price.
In London, the closest competition is the traditional black cab, now facilitated by Daimler AG's MyTaxi app, which allows you to request a taxi. But these have a base fare of 3 pounds. When it comes to price, Uber usually comes out ahead.
So the prospect of Ola, which has raised $3.3 billion according to Crunchbase, entering London should be a big problem for the Californian giant. The last thing it wants is price rivalry.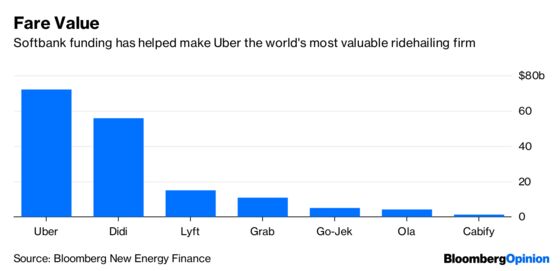 Back in March, Uber sold its Southeast Asian operations to Singapore-based GrabTaxi Holdings Pte Ltd, another ride-hailer in which Softbank is the biggest investor. The same month, India's Business Standard reported that Softbank was trying to broker a sale of Uber's operations in that country to Ola.
It seems pretty clear that Softbank does not want its portfolio companies sucking each other dry. After all, why would it subsidize firms in which it has invested to fight against each other? That's akin to giving your own children knives and declaring a battle of "first blood from the face."
Which prompts one to ask, why would Ola decide to take on Uber in the U.K.? It's hard to believe that Softbank's chief executive officer, Masayoshi Son, would have signed off on the plan. But as much as his company is Ola's biggest investor, it's not the majority shareholder, so it can't dictate strategy.
What's most striking about the move is that it gives Ola significant bargaining power if it is indeed forced to the negotiating table with Uber again, whether that be to sell up or acquire the San Francisco-based firm's Indian operations.
When Uber entered talks to acquire food-delivery rival Deliveroo earlier this year, one motivation must have been to eliminate competition and give itself more power over pricing. If Softbank encourages CEO Dara Khosrowshahi and Ola chief Bhavish Aggarwal to find a mutually beneficial arrangement, the Indian executive will be in a far stronger position if his firm is snapping at Uber's heels in one of its most important markets.
Ola has all the chips. Softbank has already invested, and probably needs to continue to throw its weight behind the Indian company if it wants a piece of the country's rapidly growing market. But it won't want to fund firms to fight each other.
So while Londoners may be about to get a taste of San Francisco pricing, it may not last. 
This column does not necessarily reflect the opinion of the editorial board or Bloomberg LP and its owners.
Alex Webb is a Bloomberg Opinion columnist covering Europe's technology, media and communications industries. He previously covered Apple and other technology companies for Bloomberg News in San Francisco.