Back-to-School Season in Jeopardy With Retail Imports Plunging
(Bloomberg) -- The biggest U.S. retail organization is warning that imports are falling sharply -- a sign that the coronavirus outbreak is poised to disrupt the retail cycle this year even after stores eventually reopen.
Imports at container ports for major American retailers fell to the lowest level in five years in March, according to a report by the National Retail Federation and Hackett Associates. Most U.S. retailers deemed nonessential have temporarily closed their stores and are dealing with an excess of inventory and sudden changes in consumer behavior.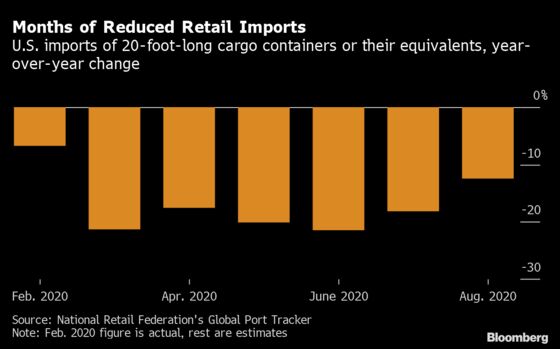 This is causing ripples through the supply chain, according to the NRF, which represents U.S. retail chains.
"There are still many essential items that are badly needed, and because of store closures cargo may sit longer than usual and cause other supply chain impacts," Jonathan Gold, NRF vice president for supply chain and customs policy, said in a statement.
While retailers are accustomed to the annual rhythm of ordering merchandise for spring, followed by back-to-school promotions in late summer and then the year-end shopping bonanza, the virus could upend the cycle this year. Since retailers start to make decisions about the holiday season assortment six to nine months out, the current period is critical and retailers are still struggling to adjust to the sudden loss of their stores for an undefined period of time.
See Also: Industries Fight for More Relief in New Bill, Tweaks to Last One
Tuesday's report also warned that the immediate negative impact on consumption may persist into the second half of the year.
Some apparel makers have already canceled some orders for the summer. Gap asked suppliers to stop shipping summer product that wasn't intended for online sales, according to a article yesterday in Business of Fashion. It also reportedly asked suppliers to stop all production for fall items.
"The Covid-19 pandemic is unraveling the economy nationally and globally as most of the world moves toward a lockdown that entails the closure of significant portions of both the service and manufacturing industries," said Ben Hackett, founder of Hackett Associates.