A Fallen Titan's Legacy Pushes Balkan Executives to Change Their Ways
(Bloomberg) -- In 2006, three business luminaries huddled in Belgrade for a meeting so veiled in secrecy that it acquired a mystical code name: Hercules. The three titans wanted to test their strength by creating a giant retail company to dominate across the former Yugoslavia.
The executives -- Ivica Todoric of Croatia's Agrokor d.d., Zoran Jankovic of Slovenia's Mercator Poslovni Sistem and Miroslav Miskovic of Serbia's Delta Holding -- haggled for six hours before giving up, unable to agree on ownership stakes. It was a lucky escape for two of them. When Todoric set out to execute the plan on his own a decade later, it proved to be his undoing.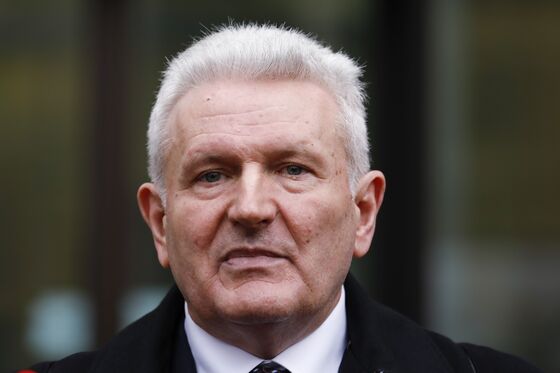 Agrokor's debt-fueled expansion culminated in the purchase of Mercator. At that point, it was the region's largest conglomerate with 60,000 employees. When the company was unable to pay its bills, its downfall was such a threat to economic stability that the Croatian government took charge of its restructuring after pushing through a special law. Todoric is now awaiting hearings on bail and his former empire will soon be run by investors. His downfall was also an inflection point in how business leaders in the former Yugoslavia approach strategic decisions.
"This was and is a very big story in the whole region," Dusan Radicevic, the chief financial officer for MK Group, a Serbian company that operates in agriculture, banking and hotel business, said in an interview. "Everybody is aware that there is nobody who's too big to fail and that efficiency and long-term sustainability are the key to success."
Executives around the globe have long wrestled with the limits of growth and diversification. For business leaders in the Balkans, Agrokor's example of owning everything from a health clinic to movie theaters has become a strategy they see as a throwback to the conglomerates of the socialist era that is no longer as valid.
"The fate of Agrokor has certainly made entrepreneurs in the region question themselves, their financing sources, their investments, and their focus," Emil Tedeschi, the chief executive of Atlantic Grupa d.d., a Croatian holding company worth $550 million at market prices, said by phone. "It was a great example of how dangerous it is to have inadequate sources of financing, to be out of focus, to dabble in everything."
A spokeswoman for Agrokor said Sberbank PJSC, VTB Group, and other creditors may be able to appoint their own management to run the company by January. Finalizing the restructuring process would be seen as a breakthrough for the government of Prime Minister Andrej Plenkovic, who has worked to shield the Croatian economy from the effects of a potential bankruptcy at the conglomerate.
Like many of his colleagues, Tedeschi said the main lesson from Agrokor's demise was frugality. As the battle to save Agrokor wore on, Tedeschi, whose office is a 15 minute walk from Agrokor's former headquarters, pared the company's debt-to-Ebitda ratio to less than 2 from 5 in 2010, he said. Atlantic may consider divesting some businesses after selling its Neva cosmetics unit.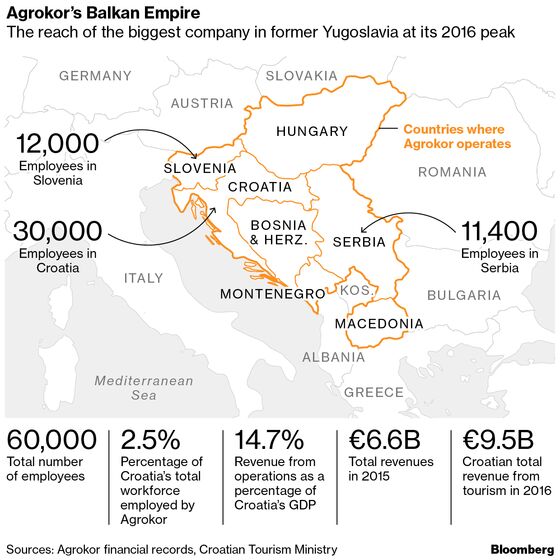 "The concept of vertical integration is being abandoned, giving way to a simpler business structure," said Hrvoje Stojic, chief economist at the Croatian unit of Addiko Bank. "Competitiveness is achieved through simplicity, productivity gains and product service, as well as execution excellence."
The same is true for MK Group, said CFO Radicevic. The company is much more conservative than in the past and has limited expansion to Serbia, Montenegro, Slovenia and Croatia. With 15 hotels, an integrated agricultural business and holdings in banks, MK Group isn't looking to enter new industries. It's also looking to keep net working capital at about 50 percent of total debt, he said.
"If you were to offer us a very good deal to buy a pharmaceutical company, with a good return on investment of two years, we wouldn't be interested," said Radicevic. "We don't feel comfortable in the segments we don't operate in and we won't take the risk."
At Delta, the oldest holding company in Serbia, the formula is similar: find good acquisitions, buy for the right money at the right time, said Zivorad Vasic, a vice president. The company has sold an insurance unit, a retail chain and a bank.
Besides agriculture, which accounts for about a third of its activities, Delta builds and owns five-star hotels, including an Intercontinental in the Slovenian capital Ljubljana and a Crowne Plaza in Belgrade.
"At Delta, we say you don't have to invent hot water," said Vasic, who spent 17 years in the U.S., where he studied business and worked for the Hyatt Corporation.
It is also considering selling shares of its agricultural unit on the Warsaw Stock Exchange. Vasic didn't provide any timing for such a plan.
Todoric, who denies accusations of financial wrongdoing and faces his next hearing on Sept. 6, wanted more. He started Agrokor as a flower stand before Yugoslavia's bloody breakup, built it up to encompass almost 200 businesses, including a self-contained chain from farmers to grocery stores.
Read More: Agrokor's Creditors Approve Settlement Plan
But Todoric's ambition led to more than $7 billion in debt, about twice the company's value. An agreement with creditors is facing legal challenges and what's left of his empire -- with Sberbank PJSC and VTB Group its biggest shareholders -- awaits new management and a new strategy.
"Todoric is old school, buying anything he believes a company needs for development, taking too many loans from different banks," said Vasic. "It was a successful company, but he didn't read the fine print for the debt of Mercator. The question is "is there any room for this kind if corporate culture in a modern world."