Fairway CEO Says Grocer Can Handle Whole Foods and Trader Joe's
(Bloomberg) -- It's been more than two years since Fairway Markets emerged from bankruptcy, and Chief Executive Officer Abel Porter insists those troubles are over. Credit raters aren't so sure, and are watching to see if the chain can regain its edge in New York City's hyper-competitive grocery business.
"We've moved dramatically quickly to be able to compete," Porter said in an interview on Nov. 16. "We're not burning cash, we're accumulating cash."
Fairway Group Holdings Co. enjoys iconic status with some New Yorkers, but its small scale puts it at a disadvantage with newer rivals like Whole Foods and Trader Joe's that compete for upscale shoppers. It recently completed a debt overhaul and five-year extension, which Moody's Investors Service regards as distressed deal and perhaps only a temporary respite; another restructuring is "highly likely" within 18 months, Moody's said.
"Without the capital to effectively conduct promotional and marketing activities in a highly competitive market, Fairway's top-line growth will prove elusive, and cash flows, liquidity and profitability will remain strained," Moody's analyst Mickey Chadha wrote in a Nov. 7 note.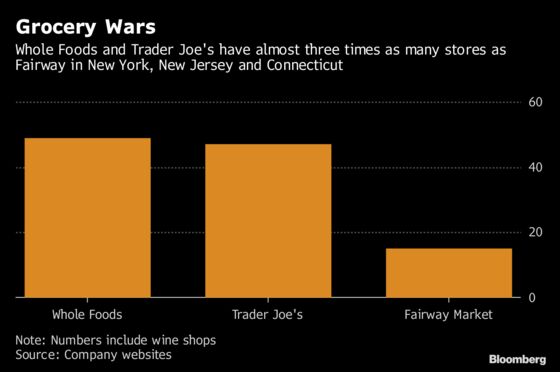 Owners include Brigade Capital Management LP and Goldman Sachs Group Inc. Blackstone Group LP's GSO Capital Partners, which owned a large stake after Fairway left bankruptcy in 2016, exited its position in August. Paula Chirhart, a Blackstone spokeswoman, and representatives at Brigade and Goldman Sachs declined to comment.
Fairway has 15 stores and 4 wine shops located in and around New York, Connecticut and New Jersey. Nathan Glickberg founded Fairway's forerunner in 1933 as a fruit and vegetable stand before the business settled into a storefront on Manhattan's Upper West Side, according to the chain's website. In the 1970s, Nathan's grandson Howie added groceries and specialty foods to the offerings, as well as expanding floor space.
Since taking over Fairway in 2017, Porter has focused on keeping customers inside his stores by upgrading the shopping experience and promoting variety at Fairway, where the aisles include dozens of bins of coffee beans, fresh-ground almond butter and eclectic produce such as mamey fruits.
Debt Level
Porter, 60, says the company is accumulating cash and is in "no risk of running out of capital," enabling it to keep up with the industry. Fairway owes more than $300 million, according to data compiled by Bloomberg, a debt level Porter said the company will be able to service.
Fairway has a well-known brand and it operates in an attractive niche, according to Moody's. But the chain "is facing an extremely promotional business environment, and with competitive openings in its markets expected to continue, the ability to improve profitability at a level sufficient to support the current capital structure looks highly suspect," Moody's said in a Nov. 6 note.
By Moody's reckoning, the debt load is more than 10 times Ebitda, or earnings before interest, taxes, depreciation and amortization. Over the next year, Moody's sees less than $1 of Ebit coming in for every dollar of interest going out.